Mayor cuts ribbon on Connection Center
Aims to connect disengaged young adults to training, jobs
7/29/2015, 11:07 a.m.
Mayor Martin Walsh and the Boston Opportunity Youth Collaborative cut the ribbon this week on the Connection Center, a resource to assist Bostonians ages 20 to 24 who have a high school credential but are not engaged in employment, further education or job training.
At the new center, operated by Roxbury-based X-Cel Education, a staff of "success coaches" will assess the needs of disengaged young people and guide them to appropriate training, educational opportunities and work.
Though the official launch event was July 27, the organization has been operating quietly since February in its location within the Ruggles MBTA Station near the entrance to the Northeastern University campus.
With Connection Center assistance, Jandira Oliveira of Dorchester landed a spot in a 15-week Careers in Banking and Finance course at the Asian American Civic Association.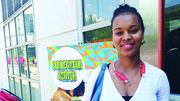 Oliveira, 24, who came to the U.S. from Cape Verde at 18 and recently completed her GED, said Connection Center staff member Kelly Folsom accompanied her to AACA for the initial interview and English, math and writing tests. She was one of 10 applicants selected from a pool of about 100, she said, and started her training last week.
"So far, it's really good," she said. In addition to the all-day training, Oliveira is working part-time, caring for a baby daughter and aiding an ill grandmother. She is looking forward to working as a bank teller or personal banker after completing the AACA program.
Folsom said that when young people come to the Connection Center, staff members refer them to local organizations such as AACA, Year Up and College Bound Dorchester, and in the process become "stakeholders" for them.
"We are connecting them to other organizations, but we are there for them, and if it doesn't work out, we want them to come back here," he said. "We can evaluate what happened and locate another program."
Such starts and stops are to be expected of a population of young people who for whatever reason have not found steady footing in traditional schooling or entry-level jobs.
Neil Sullivan, executive director of the Boston Private Industry Council, said his organization is working with the Walsh administration to take up the challenge of creating a high-school-to-early-career system that "circles back over and over" to reengage those who have fallen behind.
"We're reaching out to a population that's largely invisible to the public and to policymakers," Sullivan told the Banner. He added that while Boston Public Schools does a good job of reengaging school dropouts, young adults reaching 21 no longer have the option to come back to high school, and thus need to be reached by other means.
Network approach
The Boston Opportunity Youth Collaborative was convened in 2013 by the Private Industry Council and the Boston Opportunity Agenda with funding support from the Aspen Institute Opportunity Youth Incentive Fund for Community Solutions. The BOYC's more than 70 members include community-based organizations, city agencies and local colleges and universities.
The Connection Center concept grew out of a multi-agency brainstorming process that included six youth participants. One of those was Rommel Glover of Roxbury, who spoke briefly at Monday's ribbon-cutting event.