1852 Douglass speech still resonates
Annual public reading draws hundreds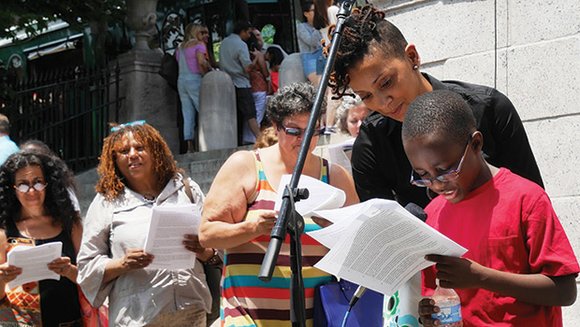 "What, to the American slave, is your Fourth of July?" asked Frederick Douglass on July 5, 1852 in a speech to the Rochester Ladies Anti-Slavery Society.
The former slave and well-known abolitionist, writer and orator had been asked to commemorate Independence Day. But two years after the enactment of the Fugitive Slave Act, Douglass, who had escaped slavery himself, decided to deliver some searing words to his fellow Americans.
"The Fourth of July is yours, not mine," he said. "You may rejoice, I must mourn. To drag a man in fetters into the grand illuminated temple of liberty, and call upon him to join you in joyous anthems, were inhuman mockery and sacrilegious irony. Do you mean, citizens, to mock me, by asking me to speak today?"
Douglass accused the U.S. people and government of the highest hypocrisy for denouncing the foreign slave trade while allowing internal slave trading to continue. Worse, the Fugitive Slave Act had made it a federal offense to harbor escaped slaves even in free states, forcing law enforcement officials everywhere to arrest anyone suspected of being a runaway slave.
"You invite to your shores fugitives of oppression from abroad, honor them ... salute them, protect them, ... but the fugitives from your own land you advertise, hunt, arrest, shoot and kill," Douglass said. "You glory in your refinement ... yet you maintain a system as barbarous and dreadful as ever stained the character of a nation."
Public reading
In Boston last week, two days before July 2, a public reading of the famous speech was held on the Boston Common. Readers lined up at a microphone set up near the State House and stepped up to read a paragraph each, 53 in all.
"Reading Frederick Douglass" events have occurred annually since 2009, the first year of Barack Obama's presidency, said Pleun Bouricius, director of grants and programs at Mass Humanities. Her organization spearheaded the event along with Community Change, Inc. and the Charles Hamilton Houston Institute for Race and Justice at Harvard Law School.
On the Common last week, a crowd of 150 to 200 people milled about, many listening with somber attention to the entire hour-long event. House Speaker Robert DeLeo led off the reading, followed by a handful of other legislators, including Sen. Jamie Eldridge and Reps. Jay Livingstone, Joe McGonagle and Paul Donato. Members of the 54th Massachusetts Volunteer Regiment and special guest former state Rep. Marie St. Fleur followed, and then anyone who wanted to line up.
Volunteer readers spanned a range of old and young, black and white, speaking with foreign and local accents. Some spoke quietly, some forcefully.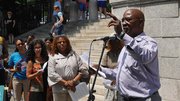 One woman's voice cracked with emotion as she read an especially painful passage describing the brutal practices of slave buyers and sellers, the sundering of families and the horrifying sights and sounds of humans being driven to the slave market.
Douglass's eloquent condemnation of brutality and injustice is hard to contemplate without noting the speech's continuing relevance.
"We stand here today in 2015, and many of those who share the heritage of Frederick Douglass are still not free in America," said Barbara Lewis of the William Monroe Trotter Institute, who made introductory and closing remarks. "People being killed in the streets and in churches — that's the hallmark of what happened in the time of slavery; those of African heritage could be killed without benefit of trial."