Bike entrepreneur, partners propose Dorchester bike shop/cafe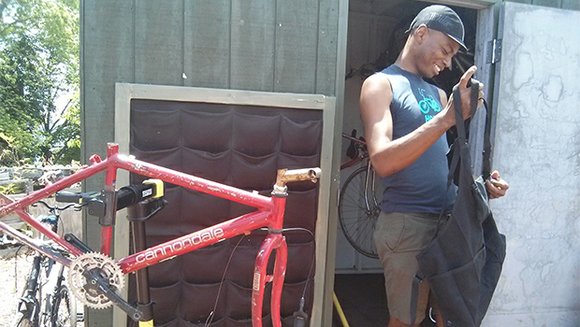 A long-abandoned former public bath house near Uphams Corner available for redevelopment has sparked the interest of four proposers, among them Dorchester native and self-styled bicycle repair entrepreneur Noah Hicks.
For the past six years, Hicks, 28, has been buying, restoring and selling bicycles in his home neighborhood of Bowdoin-Geneva. What started as a hobby became a job at Ashmont Cycles and then his own Bowdoin Bike School, a bicycle repair and teaching center he set up in an open-air space at the Bowdoin-Geneva Community Hub. At Bowdoin Bike School, he engaged local youth in mastering bicycle mechanics and bicycling safety.
Hicks has dreamt for some time of a more permanent (and warmer) shop combined with a cafe. Last May, he launched a fundraising effort on Indiegogo.com to help fund his bicycle repair operations and some improvements to his makeshift shed — with a longer-term goal to open a "brick-and-mortar" bike shop and cafe by Spring 2015. The crowd-funding project ended in July, having brought in more than $7,000.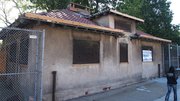 Now, in partnership with Historic Boston Incorporated and The American City Coalition, Hicks is proposing to redevelop the decrepit, city-owned bath house — known as a comfort station — as "Bike Kitchen," a bicycle retail and repair shop and cafe under one roof.
"This was a good opportunity to look for a larger place to continue to reach people in the community and get more bikes, fix more bikes and pay more young people," Hicks told the Banner. "The point is not to just open up a business, but a business that benefits the community. I want to continue doing this kind of work in a way that's sustainable and provides jobs."
Historic Boston Incorporated would take on most of the funding, design and renovation work for the estimated $1.1 million project, while Hicks, operating the Bike Kitchen shop and cafe, would be the refurbished building's tenant.
"HBI's mission is to redevelop significant historical buildings, especially in ways that can catalyze neighborhood vitality," said Jeffrey Morgan, the organization's director of real estate development.
One of HBI's recent projects was redevelopment of the Eustis Street Fire House in Roxbury, where interpretive panels now portray the site's history.
The comfort station, closed since 1977, sits adjacent to the historic Dorchester North Burying Ground, which is listed in the State and National Register of Historic Places. Renovations will be reviewed by the Boston Landmarks Commission and the Massachusetts Historical Commission, according to the Bike Kitchen proposal.
The one-story stucco and tile building, designed by architect William Besarick, is a good example of mission-style architecture, Morgan said. The proposed Bike Kitchen project would highlight the building's transportation-related history as a rest stop along what was once a bustling trolley line.
"Comfort stations were often placed along important transportation corridors," Morgan said. "This was a streetcar corridor, with a lot of people commuting. It's similar to a rest area along the highway."
The building consists mainly of toilet and shower stalls on the street level, and a basement.