Bookshop opens in Dot.
Entrepreneur Yooree Losordo sets up shop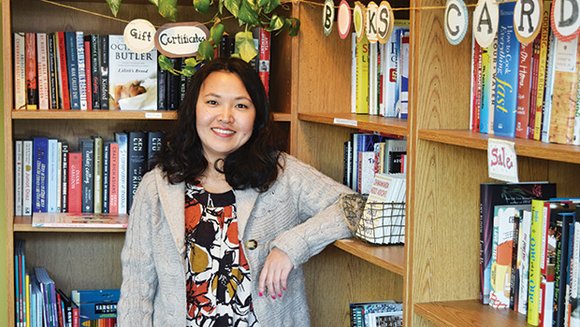 Yooree Losordo, owner and operator of Dorchester-based On the Dot Books, is using some innovative ways to be successful in a traditional industry with her independent bookstore business. At the same time, she also is hoping to be part of what she sees as a growing revival of the local-owned, independent bookstore.
While many think that independent bookstores are disappearing in the face of competition from big-name bookstore chains, online giants such as Amazon and the proliferation of e-books, the local bookstore actually is making a comeback. Data from the American Booksellers Association shows that for the last five years the number of independent bookstores has increased annually. For entrepreneurs such as Losordo, the new local bookstore is an evolution from the past and provides a new experience that more and more readers are craving, as well as an ever-important connection to the community.
"I think people are waking up to the fact that local merchants do a lot more for their communities than online and big-box retailers," Losordo said. "Indie businesses have three times the economic benefit to communities."
She also shrugs off the concern about e-books. She believes that after riding out the initial wave of e-book mania, tastes are changing and hard-copy books are in fashion again.
"I think people are coming back and realizing it is a better experience reading a book," she said.
But the real point is that today's modern local booksellers are not just fighting all the trends. They are incorporating them into the business model and making it part of the appeal.
Losordo won a pitch contest for her local bookstore idea through a business planning class at the Dorchester Arts Collaborative in June 2014. And even though the $5,000 prize was a great boost to her business, it was not enough to open a stand-alone bookstore. So she got creative and opened a book stall at the Ashmont/Peabody Square Farmers Market that same summer. The thought was to capitalize on the food traffic with a different offering and also test out her ability to sell books.
It wasn't the easiest experience, she admits — especially having to move her book stall setup constantly — but it allowed her to see the benefit of connecting with an existing consumer base.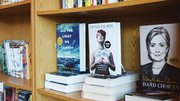 This base, along with considering the trends of coffee shops selling books or bookstores selling coffee, led her to the Dot2Dot Café in Dorchester. Losordo sold Dot2Dot Café owner Karen Henry-Garrett on the idea of opening up a permanent On the Dot Books location in the Dorchester Avenue café. She launched there last September; the café is open six days a week, from Tuesday to Sunday, selling books from 8 a.m. to 2 p.m.
"It is becoming a trend where you see food and retail in one location," she said. "At least in urban areas where the cost of business is going up, up and up, I think we are going to see more businesses that are sharing locations just because that will be the only way to make things work. It is also a way to create more of an experience for our customers. That is a way to differentiate ourselves and compete."