Workers 'Fight for $15' in Downtown Boston
Hundreds march for higher wages, unions and more
Eliza Dewey | 4/22/2015, 10:25 a.m.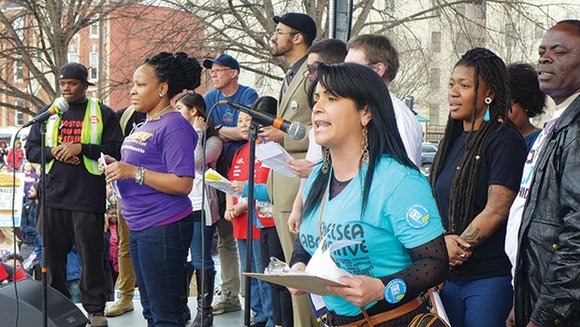 Labor activists across the country took to the streets last week in coordinated marches calling for higher wages, many times weaving their message into broader calls for unionization, affordable housing, and immigration reform.
Those marching in a Boston demonstration underscored the difficulty of trying to make ends meet on a limited pay check.
Kenneth Brimmage, a Burger King employee who currently earns $9 an hour, said he had to factor heavy travel costs into his limited budget. He's originally from Boston but said he was priced out of the city and now lives in Brockton — and travels to Holbrook every day to work. Despite having to travel far for the rally, he said it was worth it.
"A chance for a better tomorrow is always worth everything you got," he said.

Sabrina Johnson of Dorchester, a member of Boston Fast Food Workers, said she had to work three jobs to make ends meet. She makes $9.57 per hour at Chipotle, $10 at Logan airport, and $13.39 as a home health aid. She marched in front of the crowd helping to hold a large banner for the Boston Fast Food Workers group.
The Boston march, organized by a local group called the #WageAction Coalition (yes, hashtag included), framed itself as the kickoff for a global series of marches and protests on April 15. In the United States, the national movement is known as the Fight for Fifteen, named after its call for a $15 minimum wage — at either the city- or industry-level, depending on the location — from Seattle to New York. Boston organizers decided to march on April 14 in part out of respect for the anniversary of the 2013 Boston Marathon bombing the following day.
Multiple parties
Last week's march included workers from a diverse range of low-paying jobs, including fast-food workers, home health care aides, taxi drivers, airport security and luggage workers, and adjunct professors.
While the inclusion of this last group may seem surprising to some due to their high level of education, organizers stress that adjunct professors often live at near-poverty levels and make very low levels of pay compared to their tenured colleagues for the amount of hours that they end up working.
As the march wound through the heart of the city's hospitality and dining districts, some employees in hotel and restaurant uniforms came out to watch. When asked by the Banner for comment, multiple workers declined because they were on the job and not supposed to speak to press.
One onlooker, however, lent his support from his parked pickup truck. Ron Talbot, a carpenter with Local 51 in Dorchester, said that while he was satisfied with his own level of income, he wished the best to protesters.
"We always like to see people marching peacefully," he said. "If they need to make more money, then good for them."
Although the signs and chants of the event mostly centered around the call for a $15 hourly wage, at times the labor message mixed heavily with other concerns that community organizers and working-class Bostonians frequently raise.