In the news: Harshana Godamanna
9/25/2014, 6 a.m.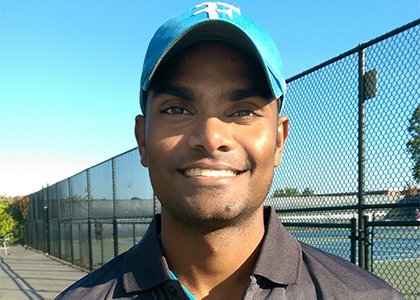 Harshana Godamanna, Sri Lanka's five-time national tennis champion who currently holds the record for Sri Lanka's most Davis Cup wins, the best singles record, and is part of their best doubles team, is now the second in command on the Sportsmen's coaching staff, working closely with Director of Tennis Marton Balla, formerly of the Saddlebook Tennis Resort and Academy.
"I'm excited to join the team at Sportsmen's, to help develop the potential of so many talented and athletic youth. Sportsmen's recently installed a new fitness center, and also restructured its summer tennis academy. It's a great time to move into a leadership role at the club."
Godamanna joins a Tournament Training team which also includes former Davis Cup player Robert Amartey, and Sara Redd, formerly the Head Tennis Pro at Spelman College in Atlanta. Godamanna recently graduated from UMass Boston with a Bachelor's of Science in International Management.
Sportsmen's Tennis & Enrichment Center has a 50+ year track record of developing high performing diverse tennis players, and the latest coach to join their ranks will assure that this continues into the future.
Sportsmen's provides private and group tennis lessons for children ages five and up and for adults of all ages and skill levels. The Center is open seven days a week, and offers free tennis programs for all ages on Fridays from 6:00 – 8:00 p.m. and on Sundays from 3:00 – 5:00 p.m.