The New Boston Office of Women's Advancement takes aim at pay equity
Martin Desmarais | 9/16/2014, 8:12 a.m.
The new Boston Office of Women's Advancement and the recently revitalized Boston Women's Commission have a broad mission aimed at improving the lives of women and girls throughout the city in a number of different areas. However, for Boston's businesswomen the first big target is increasing pay equity and making sure the city has greater opportunity for women entrepreneurs.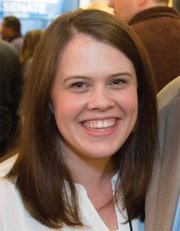 Megan Costello, who leads the Office of Women's Advancement as executive director and also serves as chair of the Boston Women's Commission, said that in a city where women make up 52 percent of the population there is a social and economic need to ensure equal opportunities for women.
Costello points to the most current Employer Information Report, known as the EEO-1 Report, that shows Boston women make about 83 cents on the dollar compared to their male counterparts — numbers that the Office of Advancement and the Boston Women's Commission are not willing to just accept.
Working with the Boston Women's Workforce Council, the Office of Advancement has launched a data project this summer to find out what companies in the city are doing to make sure they advance women. The office is asking companies to sign on and look internally at the data and analyze what is effective in supporting economic equity for women and what needs to be fixed to remedy disparities.
While pay equity is often the first thing targeted, Costello said it is just part of the bigger picture.
"It is not just about the wage gap and raising wages, but it is about making sure there are other opportunities to make sure women can be successful," she added. "We also have to consider the barriers that prevent women from leadership roles."
By examining such issues through the Office of Advancement the hope is it will give a broader platform for the context of the impact on women.
"This isn't about women saying we need this for us. This is women saying we need this for our families and we need this for the society. This is good for us all," Costello said. "This is about companies making more money and being more profitable and at the same time helping to advance women and their families."
The Boston Women's Commission will also serve as a support system for women entrepreneurs and businesswomen throughout the city with its members serving as mentors.
The commission is not new, but in June it appointed new members for the first time in almost two decades in a move to revitalize its impact as a vehicle to support policy change that impacts women for the better. It is comprised of female and male leaders in business, academia and the nonprofit sector. With room for up to 30 members, 19 have been appointed so far.
Commission members have a wide range of experience that they can bring to bear as leaders in support of a new Boston for women and as mentors.
Members include: Alicia Canady Adamson, senior director of affinity programs and events at United Way of Massachusetts Bay and Merrimack Valley, and also founder of The Young Black Women's Society Inc.; Marques Benton, vice president and director of the Office of Diversity and Inclusion at Federal Reserve Bank of Boston; Vanessa Calderón-Rosado, CEO of Inquilinos Boricuas en Acción; Diana Hwang, founder and executive director of Asian-American Women's Political Initiative; Colette Phillips, president and CEO of Colette Phillips Communications; and Robert Rivers, president and chief operating officer of Eastern Bank.