City hosts summit on lead paint danger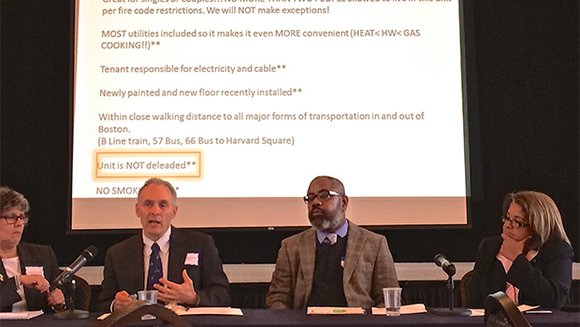 "Information is power," she said. "We need to educate people. If you ask about deleading and they say no, don't just hang up."
Politicians and the general public may be unwilling to push for stronger enforcement, finding small landlords sympathetic parties, as evidenced by the popular support for repealing rent control in 1994, a movement bolstered by ads featuring "mom and pop" landlords fretting about expenses.
Chandler expressed little patience with the homebuyer who acquires a triple-decker, counting on rental income to pay their mortgage, but does not treat it like the small business it really is, with rules and regulation that come along with business ownership.
"Sometimes landlords will say, 'I'm a grandfather, and I'd really hate to endanger a tenant's child,'" she said. "But if they really cared about children, they'd delead."
As for solutions, panelists suggested a combination of enforcement, stronger laws and greater financial assistance to property owners who delead. Some myths about the costs and effort of deleading need to be dispelled as well.
"What people don't understand is, it's not a $30,000 job anymore. The average is less than $8,500," Berman said. He noted that property owners in Boston can receive forgivable loans of $8,500 from the city. There are also a number of other grants and credits at the city, state and federal level for deleading.
Williamson supports adopting a law to require any housing rented to anybody to be lead-compliant. The law could allow some time, for instance a three-year phase-in, she said, and some financial incentives — but would have to be pushed hard to overcome political resistance.
"It's a public health risk. I don't know if you've seen what lead paint does to a child," she said, adding, "As long as it's only affecting the poor, it's not going to be a priority. We have to make it a priority."
The Walsh administration is introducing actions to reduce lead hazards in Boston. Mayor Martin Walsh made a brief speech at the lead summit and announced a five-point plan involving several city agencies. The plan includes deleading of 400 housing units over the next five years; educating 2500 at-risk residents on fair housing and lead awareness; conducting 325 lead inspections in high-risk units; training and licensing 500 contractors in lead safety during renovations; and training 250 homeowners in do-it-yourself moderate-risk deleading.
"We will use data to focus our efforts on most at-risk neighborhoods," Walsh told the audience. "This issue is important for so many reasons. It's an education issue, it's a jobs issue, it's an environmental justice issue, it's also a health and housing issue. It affects our shared progress. So we need to have a hand in the solution."
For information from the Boston Public Health Commission about lead poisoning prevention, see http://bit.ly/1wywseR. For information on grants available to help pay for deleading, see the Department of Neighborhood Development's Lead Safe Boston brochure at http://bit.ly/1w7BTQD. To read about National Lead Poisoning Prevention Week, see http://www.cdc.gov/features/leadpoisoning.