City hosts summit on lead paint danger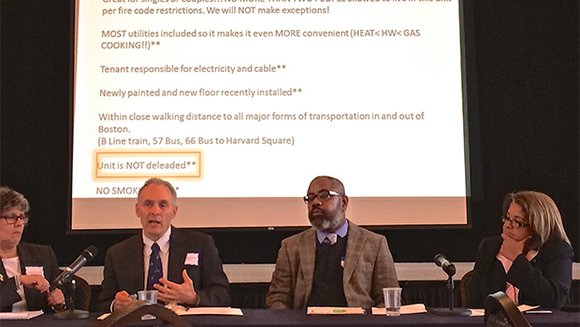 Current state law requiring home inspections when a child's lead level is found to be above 25 micrograms is based on "old science," Palfrey said in an interview. He believes the level should be lowered, but changing the law is resisted by landlords and real estate agents.
"It's a problem we know how to solve. We just haven't had the gumption to do it," he said.
A panel on lead-related housing discrimination featured Nancy Schlacter, executive director of the Cambridge Human Rights Commission; Barbara Chandler, senior advisor on civil rights and fair housing at the Metropolitan Boston Housing Partnership; William Berman, clinical professor of law and director of the Suffolk University Law School Housing Discrimination Testing Program; John Smith, enforcement and compliance manager at the Fair Housing Center of Greater Boston; and Jamie Williamson, chair of the Massachusetts Commission Against Discrimination.
Panel members discussed both the legal requirements landlords must keep in mind about lead paint and the barriers to actually getting apartments deleaded.
"This is the most intractable area of discrimination we see," said Berman, whose HUD-funded program sends pairs of "testers" to inquire about apartments, one who mentions a child under 6 and one who does not. Discrimination against families because of lead paint is the most common problem they find.
Technically, families are supposed to be able to view and select any apartment on the market that they can afford, deleaded or not. If they choose an older apartment, the landlord must present a certificate of deleading — or undertake the deleading process immediately, before the tenants move in.
In reality, many landlords balk at the expense and labor of deleading. Owners often advertise apartments as "not deleaded" or "great for singles or couples" to alert families with children to not inquire. Real estate agents may simply tell families the units are not available. If they are aware this is illegal, they won't say outright that no children are allowed, but instead will discern whether apartment-seekers have children by asking seemingly innocuous questions, like "How many people will be living in the unit?" and then quietly deny them the chance to view units that may have lead paint.
The upshot is that families have far fewer rental options, and lead paint issues remain unabated.
There is a significant financial incentive for landlords to discriminate, Berman explained, and a "permissive culture" that makes it seem okay for property owners to say out loud that they don't intend to rent to families with children.
Berman's group also inspects posted apartment ads, and finds that at least 57 percent contain wording that is meant to discourage families with children, a practice that violates fair housing laws.
Chandler said another important factor is that most apartment-seekers need to find housing quickly. People using Section 8 vouchers, for instance, often have a limited search time and may not be able to wait for an apartment to be deleaded, even if landlords are willing to do it.
Williamson added that even housing authorities sometimes advise clients to "keep looking, because time is of the essence" if they're told a landlord can't accept Section 8 because of lead paint. This is patently illegal and clearly irks Williamson.