Thousands of Boston marchers take to the streets in Ferguson protest
Yawu Miller | 11/26/2014, 8:37 a.m. | Updated on 11/26/2014, 8:04 a.m.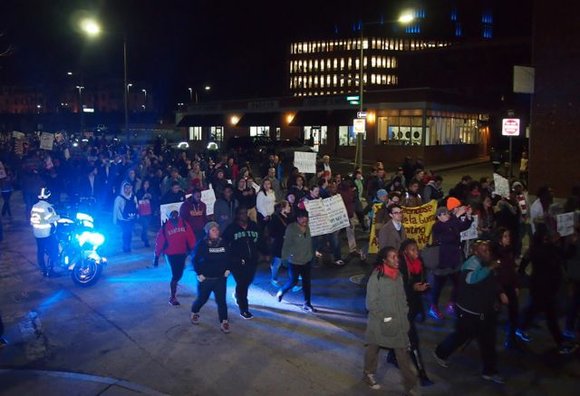 A crowd estimated between 3,000 and 5,000 people marched from Dudley Square to the South Bay House of Correction, blocking traffic on the Interstate 93 on-ramp for more than two hours in a rowdy, but mostly peaceful protest over a grand jury's decision not to indict Ferguson, Mo officer Darren Wilson for the shooting of unarmed teenager Michael Brown.
The protesters gathered in Dudley Square opposite the Area B2 Police Station while clergy and elected officials met nearby at the 12th Baptist Church to hear concerns from community residents about the Ferguson decision and police-community relations in Boston.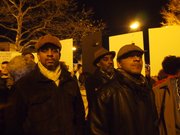 As the protestors chanted the profanity-laced NWA anthem F--- the Police, Boston police officers accompanied the march, blocking traffic for the procession. When the marchers reached the Suffolk Bay jail, police formed a line, blocking the march from advancing to the interstate.
Passing through the crowd, Suffolk County Sheriff Steve Tompkins expressed conditional support for the protest.
"It's one heck of a display of civic engagement," he said. "As long as it remains peaceful, I certainly do not have a problem with it. We can't live in a country where young men of color are killed indiscriminately."
City councilors Charles Yancey and Tito Jackson also joined the march.
Marchers attempted to push through the line, occasionally getting into heated exchanges with the officers. After a nearly two-hour stand off, the protesters reversed direction, heading to Massachusetts Avenue and the Back Bay. Forty one protesters were arrested before the march broke up around midnight.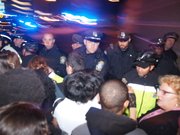 The Boston demonstration had little of the rage that was demonstrated Monday in in Ferguson, where protesters burned stores, shots were fired and police made arrests. Among those arrested, complained they were punched, kicked and slammed to the ground by police
"I think the Boston Police Department has learned their lessons from past years," Yancey said. "The leadership really understands community policing."
Back at the 12th Baptist Church, Mayor Martin Walsh and Gov.-elect Charlie Baker both spoke. Walsh said he is committed to working to eliminate racial disparities in Boston.
"I'm not going to pretend that everything is okay in the city of Boston or that the legacy of injustice can be healed overnight," he said.