Venezuelan official cites country's African history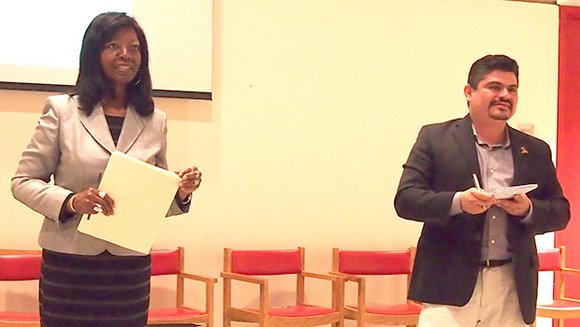 "They called genocide 'genocide'," Sierra said. "They documented slavery. They taught who the Cimarrons were."
In 2005, the Chavez administration began celebrating Afro-
Venezuelan Day on May 10th, to commemorate the date in 1795 when Afro-Venezuelan military leader Jose Leonardo Chirino won a decisive military victory against the Spanish.
The Chavez government also commissioned statues commemorating other Afro-Venezuelan military leaders who led slave revolts and fought in the war of independence and created a National Council for the Development of Afro-Venezuelan Communities, charged with helping preserve the Cimarron-descended communities where African cultural customs are still practiced.
Sierra said cultural change is still slow to come to Venezuela, noting that blacks are still underrepresented in the white-dominated corporate media.
"Venezuela is known for three things: soap operas, oil and beauty queens," he said. "But you never see black people in those areas."
Sierra's presentation to the Pan African Forum last week, came days before anti-government activist Leonaldo Lopez received an alumni achievement award from the Harvard Kennedy School, where he graduated in 1996. Lopez was arrested in February by Venezuelan authorities for his leadership role in the university student protests against the government of President Nicolas Maduro.
After serving as vice president under Chavez, Maduro was elected in 2013 by a slim 1.5 percent margin with the support of poor Venezuelans, who benefitted from an improved standard of living under Chavez.
The protests began in February after university students, complaining of crime and inflation, took to the streets and seized some government offices. During the protests, 37 people were killed, 550 were injured and more than 2,000 were detained by police, according to figures released by Amnesty International.
The Amnesty International report cited allegations that Venezuelan security forces used live ammunition on protesters and tortured prisoners during the protests. The report also alleged that anti-government forces committed human rights abuses and called on both sides to negotiate an end to the violence.
Sierra did not address allegations of government abuse, but noted that most Afro-Venezuelans did not participate in the demonstrations.
"It was mostly in the light-skinned, upper class neighborhoods," he said. "The corporate media portrays this like it's a national movement. With these protests, you have to follow the money. You have the rich people protesting and the poor people living their lives."