Forum speakers urge black women to follow dreams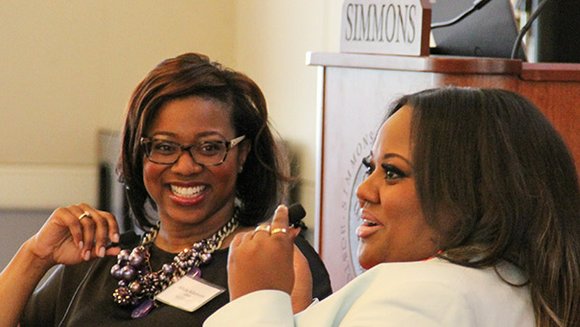 After the morning of inspirational messages, there were breakout sessions featuring the topics of "Dare to be a Boss," "Nurturing Your Spirit," and "Lift as You Climb." As the young women broke off into smaller groups, one could feel their hope and excitement build as they separated into the various rooms, and began eagerly taking notes during the sessions; hoping to glean words of advice and wisdom from the speakers that they could apply to their own lives and careers.
The "Dare to be a Boss" session featured speakers Shawna Ferguson from Wellington Management; Dr. Alice Coombs from the Massachusetts Medical Society; and attorney Stephanie Soriano Mills of Denner Pellegrino LLP.
Soriano Mills was very clear in what worked for her in her career. It was "setting boundaries and standards" and "defining my brand."
In regards to self-growth, Dr. Coombs said to the jam-packed room that "you want to know the failures not just the successes" of others.
It's the failures that you learn the most from, and Ferguson talked about how "confidence comes from within" and that it's important to "surround yourself with positive people."
Although the three women were from different fields and backgrounds, and had difference experiences, their essential message of "choosing you first" and that "it all starts with self" resonated with the room of young women, and tied in with the YBWS' vision of "Strengthening the Spirit of Leadership in Women."