Alvin Ailey dance company a soulful elegance on stage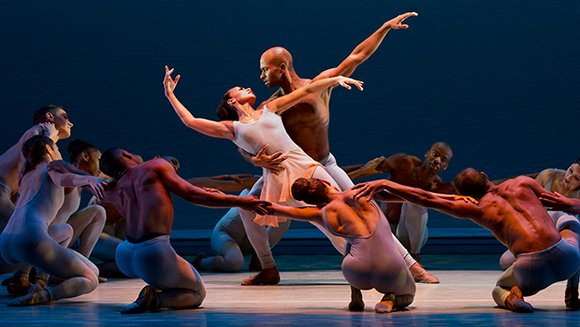 A dancer's arms and hands fluttered with the delicacy of a breeze to the ripple of a harp. As they leapt and whirled in separate pools of light, Green and Antonio Douthit-Boyd were apart, but in harmony.
"Revelations" (1960), Ailey's signature work, celebrates the heritage of the black church and its sacred spirit and body language, which elevates individuals and groups in scenes of suffering, survival and joy. In ensembles of collective harmony, Ailey's dancers move as one.
With décor and costumes by Ves Harper and lighting by Nicola Cernovitch, Ailey set his choreography to a suite of traditional gospel spirituals. Speaking of the work's three sections, Ailey said, "The costumes and the set would be colored brown, an earth color, for coming out of the earth, for going into the earth. The second part was the baptismal, the purification rite. Its colors would be white and pale blue. Then there would be the section surrounding the gospel church, the holy rollers and all the church happiness."
The choreography includes solos, duos, trios and quartets as well as ensemble pieces. Dancing with her partner Yannick Lebrun to the spiritual "Fix Me, Jesus," Akua Noni Parker made astonishing turns on one leg. In his solo to "I Wanna Be Ready," Matthew Rushing slowly folded himself back and then sprang up, as if to heaven.
In the finale, the company is dressed for church as they sway and strut to the old spiritual, "Rocka My Soul in the Bosom of Abraham." Their costumes, redesigned by Barbara Forbes, were the color of sunshine. Fluttering their fans, the women wore broad-brimmed hats and antebellum dresses and the men were outfitted in shirts and vests.
After taking their bows before an audience that would not let them go, the company erupted into a jubilant encore.