Alvin Ailey dance company a soulful elegance on stage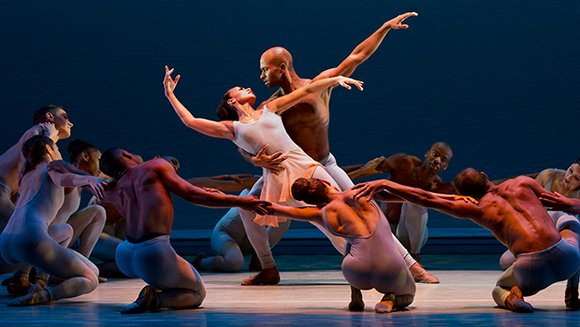 No dance company is better at combining lyrical precision, soul, elegance and verve than the Alvin Ailey American Dance Theater, here last week for its annual four-day visit thanks to the Celebrity Series of Boston, which has brought the company to Boston yearly since 1970.
Friday night, the company performed four classics choreographed by company founder Alvin Ailey, including his 1960 masterpiece, "Revelations." Entitled "Ailey/Ellington," the program also presented three works Ailey created in the '70s to the music of Duke Ellington, restaged by Masazumi Chaya, with lighting by Chenault Spence. The clarity and pared-down purity of the fresh staging — from lighting and sets to pale pastel costumes, made these works timeless and new.
As a choreographer, Ailey blended mid-century modernist influences with what he called "blood memories" of his childhood in Texas — from church services to dance halls. Ailey's works conjure a world of emotions and experiences, ultimately resolving in individual and communal harmony.
Now in its third year under artistic director Robert Battle, who was appointed by Judith Jamison, Ailey's own protégé and successor, the company is keeping its classics fresh while adopting new works by contemporary choreographers.
In two of its five shows at Citi Performing Arts Center Wang Theatre, the company performed a program of recent works by choreographers Aszure Barton, Wayne McGregor and Bill T. Jones.
Friday night was the first of three performances of "Ailey/Ellington." Dancing with their trademark prowess, dignity and joy, the company was bathed in audience love, earning roars worthy of a Red Sox home run.
The program opened with "Night Creature" (1974), a sassy and soaring mix of boogie-woogie, jitterbug and ballet that translates Ellington's music into motion. The lighthearted staging cast the dancers in silvery costumes against a pastel backdrop. Linda Celeste Sims and Vernard J. Gilmore performed the snappy solos and duets while ensemble formations framed the pair in sculpted communal shapes.
Ailey created "Pas de Duke" (1976), his modernist reinvention of a classical pas de deux, for two virtuoso dancers, Jamison and Mikhail Baryshnikov. Dorchester native son Kirven Douthit-Boyd and Jacqueline Green performed this flirty and intricate game of one-upsmanship to a suite of five Ellington compositions. They appeared to have as much fun as the audience. Green was a foxy foil to Douthit-Boyd, who was almost hypnotic in his sinuous turns, designed to spellbind his partner.
The program's third dance to the music of Ellington was "The River" (1970), which Ailey and Ellington created as a collaborative project. The first symphonic score Ellington composed for dance, the music, like Ailey's flowing choreography, evokes water in its many forms, from a spring and meandering stream to rapids, a calm lake and churning falls. Ellington spoke of it as "of the well-spring of life … the heavenly anticipation of rebirth."
Unfolding in eight movements, "The River" achieves a timeless classicism with its buoyant, ballet-inflected choreography as well as the mythical figures and shapes that the dancers form with their bodies. The dancing, music and serene staging blended together to create sublime stage pictures.