Venezuelan conductor Gustavo Dudamel raises funds for youth orchestra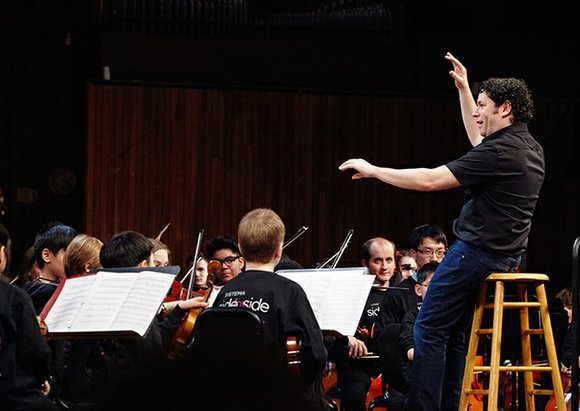 "Don't push the tempo — it is opulent, never heavy," he added. Stretching his arms in emphasis, he told them that the procession moves with "long legs."

Overhead, a video projection showed the audience what the children saw, Dudamel's dimpled, smiling face, framed by black ringlets, and a frontal view of his constantly moving arms, torso and hands.
Playful and serious at the same time, Dudamel drew out the humanity of both the music and the young players, encouraging them to strive for precise emotional expression.
Nudging the musicians to put themselves into the story and its changing emotions, he voiced a litany of phrases, as if the music spoke for the lover. "No. Yes." "Please don't leave me."
Dudamel sang and whistled a few notes to highlight a melodic vein. Gesturing as if he was soaping up, Dudamel told the musicians that he sings as he takes a shower and also when he conducts, to get at "the sound that I want."
After the players started, he again halted them, saying, "We think of the winds having to breathe. But strings have to breathe too."
As the orchestra reached the concluding passage, Dudamel reminded them that the composer's score described it as "molto maestoso" (very majestic). Rising to the challenge, the ensemble delivered an exultant finale, earning a standing ovation from the jubilant audience.
While showcasing the Side by Side Orchestra, the event also promoted Longy's joint program with the Los Angeles Philharmonic to enhance teaching in El Sistema-inspired programs. Entitled Take a Stand, the program has as its centerpiece Longy's new Master of Arts in Teaching in Music program, based in Los Angeles. Students will work with Youth Orchestra LA and faculty who have come up through El Sistema in Venezuela, including members of the LA Philharmonic.
With this partnership, Los Angeles and Boston become dual hubs of the El Sistema movement in the U.S., building on pioneering initiatives of New England Conservatory. In 1999, NEC developed the El Sistema curriculum at the Conservatory Lab Charter School, and a decade later established fellowships to train teachers in El Sistema principles. A guiding figure in these ventures was retired NEC dean Mark Churchill, who now heads El Sistema USA, a support network for the nationwide El Sistema movement.

Following the rehearsal, Dudamel, just 33, was presented with Longy's Leonard Bernstein Lifetime Achievement Award for the Elevation of Music in Society. Joining Zorn for the presentation was Jamie Bernstein, the daughter of iconic composer and conductor Leonard Bernstein. Speaking of her father's passion to bring classical music to underprivileged children, Bernstein said that if he were alive today, El Sistema "would have been the next thing for him."
Holding up the plaque, Dudamel seized the moment to honor El Sistema. "I come from a huge family of musicians who make the world a better place through music," said Dudamel. "I accept this award in the name of all the children and teachers, families and parents. I did not create the program. I am a son. Being part of this family is the best gift I could receive from life and from God."