CitySprouts introduces urban youths to gardening, nature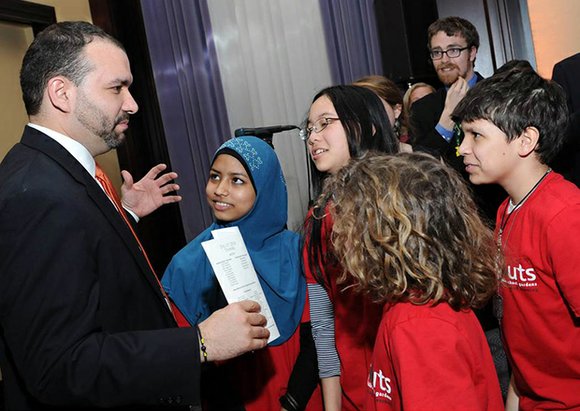 Starting in 2012, Cambridge-based nonprofit CitySprouts has worked with Boston Public Schools to bring classroom learning outdoors with its Classroom to Garden Program.
Each summer the organization plants edible gardens at participating schools and assigns the school a Garden Educator and Food Corp member to work with teachers to develop academic lessons around the garden.
CitySprouts founder Jane Hirschi's initial motivation for starting the Classroom to Garden Program was to provide an opportunity for city kids to spend more time outdoors learning and reconnecting with nature.
"I was hearing, reading and noticing myself that kids just didn't get to go outside as much," Hirschi said. "And when they went outside it was to do something really structured like sports."
Hirschi alluded to a book titled "Last Child in the Woods: Saving our Children from Nature Deficit Disorder" by Richard Louv, which addresses the division between today's technologically-savvy children and nature and its connection with obesity, attention disorders and depression.
"[The book] isn't really about city kids," Hirschi said. "But I am thinking about city kids and how sad it is for them to grow up without really knowing nature in their own backyard and thinking nature is something you have to take a bus, train or plane to."
Taking note from volunteers and other parents bringing edible gardens to schools across the country, Hirschi decided to bring the idea to her kindergarten daughter's Cambridge elementary school in 2000.
In the first year, CitySprouts worked with three different Cambridge public schools. And within six years, the program became available in all Cambridge elementary and middle schools.
Today, the Cambridge school district views the Classrooms to Garden Program as a significant part of its curriculum, Hirschi said.
The purpose of CitySprouts and the Classroom to Garden Program grew along with the number of partnering schools.
The Classroom to Gardens Program also has a significant health component, Hirschi said.
"We know kids make healthier food choices when their involved in the food growing process," Hirschi said. "Not all parents have the space or time to do that, so it really makes sense for that to be happening in school."
In 2012, CitySprouts partnered with the Massachusetts FoodCorps Initiative to bring the Classrooms to Gardens Program to Boston.
The Massachusetts FoodCorps Initiative works to provide greater access to local food to families in Eastern Massachusetts.
CitySprouts' Classroom to Garden Program is available in Boston at Mather Elementary School, David Ellis Elementary School, Orchard Gardens K-8 Pilot School and Dearborn Middle School.
CitySprouts will be leaving Dearborn Middle School at the end of the school year and starting the Classroom to Garden Program at the Higginson Lewis K-8 School in September, Hirschi said.
The two most common subjects to pair the edible gardens with are literacy and science, Hirschi said.
David Ellis School kindergarten teacher Boune Siliphaivanh paired the garden with a theme-based lesson on apples during the fall.
Siliphaivanh read her students books on apples and the different things that could be made with apples.