Sen. Warren convenes local businesses, U.S. agencies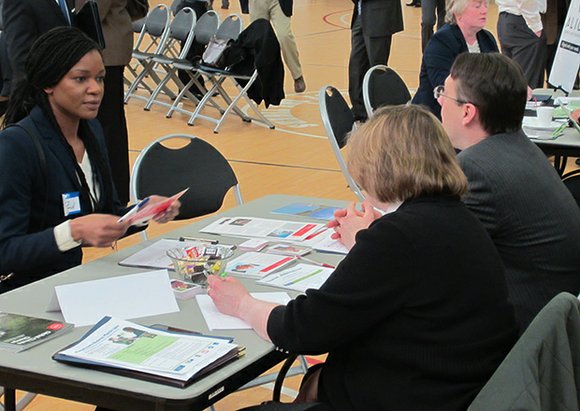 Richard K. Fields, who just launched his educational consulting company the Fields Group LLC three months ago, said this was the first time he attended an event that connected him to government agencies and contractors.
Fields' is a minority-owned business that is based out of Concord, Mass., and he said he welcomed any insight that could possible connect his startup with the lucrative government sector. His hope was that the event would lead to some business.
"We are here to get to know some of those people who represent some of the prime contractors," said Fields. "We are interested in doing some business for them."
Natalie Leveille and Audrey Lewis attended the event representing their family-owned business Eagle Trophy, which specializes in laser engraving and is headquartered in Fitchburg.
They said that Eagle Trophy is looking to expand its business and that the federal sector is an area of high interest for them.
"We are trying to get a foot into the government business," said Leveille.
They both said the business matchmaking aspect of the event was exactly the kind of interaction with government sector companies they were hoping to get — and they praised the state's efforts in organizing it.
"It is great for organizations to set up these events, so you should take advantage of these opportunities," said Lewis.
"It is a good thing the state and the government are getting involved with small businesses," Leveille added.
Unlike many of the other businessmen and businesswomen at the event, William Jimenez was there representing a company that has been around for several decades and has been consistently targeting the government sector.
An account executive at the Fitchburg-based Resource Management Inc., a minority-owned resource outsourcing company, Jimenez said that his company has gotten government business through similar business matchmaking events in the past.
According to Jimenez, what is important is getting in front of potential decision-makers who may stay in touch and reach out when services are needed in the short term or in the future.
"At an event like this you are planting the seeds — it is the networking stage," Jimenez said. "There is a government opportunity because they must do this."
In her remarks, Warren echoed the theme of business opportunities.
"This event is about building opportunities," she said. "It is opportunities for small businesses to be able to work with the government either directly or to do it through a prime contractor. It is opportunities for government agencies to find some of the best small businesses in America to do their work.
"The way I see this: government agencies are lucky that they can get Massachusetts' small businesses to work for them, with just the tools to make it happen in this room."