Sen. Warren convenes local businesses, U.S. agencies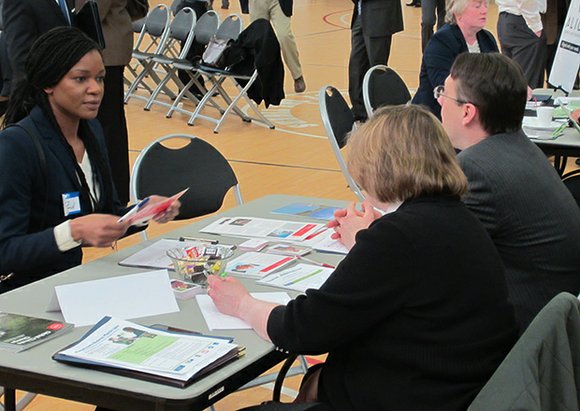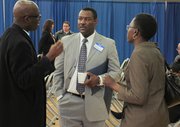 Small businesses got a chance to pitch their services to government agencies and government contractors in a bid to get a piece of the multi-billion-dollar pie that is offered by the federal sector every year.
The event, which was attended by about 200 Massachusetts small businesses at the Reggie Lewis Track and Athletic Center, featured 25 government agencies and prime contractors — including the U.S. Army Corps of Engineers, the U.S. Environmental Protection Agency and U.S. Department of Transportation on the federal end, as well as giants such as Raytheon, BAE Systems and Booz Allen Hamilton on the private contractor end.
Small businesses in attendance had the opportunity to sit down one-on-one with agency representatives and contractors to learn about possible contracts in the region.
U.S. Sen. Elizabeth Warren was on hand to kick off the "Mass. Business Matchmaker" event, as were leaders from the U.S. Army, U.S. Air Force, the General Services Administration and the Small Business Administration.
"We are here to produce some jobs," she said. "We are here to produce some jobs here in Massachusetts. There is work to be done and the good news is we have people who are here to do the work."
She pointed out that the contractors at the event had large deals in place with the federal government and have a responsibility to use small business to help them fulfill parts of their contracts. She said they "need the work that small businesses do."
Among the other speakers was Steven D. Wert, program executive officer for the U.S. Air Force. Wert told those small businesses owners at the event that there are billions of dollars of opportunity through federal work each year. He also emphasized that the Air Force, in particular, is increasing its efforts to work with small businesses.
"We will be interacting with you much more," Wert said. "Our attitude that we are trying to convey, I think across the board, is whatever our attitude was in the past we are engaging small businesses now."
On the floor at the Reggie Lewis Track the small businesses included minority-owned business, women-owned business, veteran-owned businesses and family-owned businesses.
Daniel Skeritt and Yemisi Oluwole, owners of the Somerville-based Pinctada Banquets & Events LLC, said the opportunity to meet face-to-face with government agencies and prime contractors and learn about access into the federal sector is invaluable.
"It is an outstanding presentation that opens up many opportunities for small businesses," Skeritt said.
"It is about access," Oluwole added. "It is a very good way to make that connection with an opportunity."
Pinctada Banquets & Events is a minority-owned business.
Skeritt and Oluwole said that they have attended other similar events in the past and try to do so at least once a month and even more if possible.
They said that even if they don't get any immediate contracts from a business-networking-type event, sometimes a connection made can lead to business or a referral down the road.
"You have to build relationships. That is the primary opportunity that you have," Oluwole said.