Candidates for 5th Suffolk seat debate issues at forum
Yawu Miller | 3/26/2014, 10:28 a.m.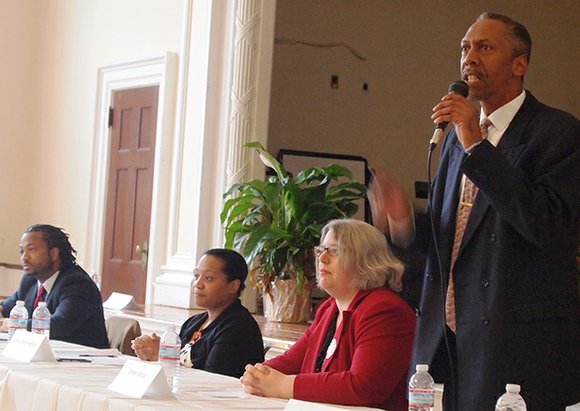 When asked how they would engage residents in the district, which has among the lowest voter turnout in the state, Johnson said she would maintain regular district office hours. Lawton advanced the same idea, and jokingly suggested his neighbor was cribbing his agenda.
"I should start closing my window when I have these conversations," he said.
Lawton also advocated for bringing more state services to Dorchester, including a Registry of Motor Vehicles branch.
In addition to opening a district office, Carvalho said he would visit churches and host a segment on a local radio show.
"You'll see me working here," he said. "I'm not going anywhere."
Charles Peterson stressed her experience working in constituent services for the late City Counselor Bruce Bolling.
"I love helping people," she said. "Constituent services runs through my veins."
Perennial candidate Roy Owens did not attend the forum. Althea Garrison, whose name will not appear on the ballot in this election because she only recently switched her registration to Democrat, sat quietly in the back of the auditorium.
While turnout — at about 60 people — was decent for a Sunday afternoon political forum, political activists in the room expressed concern that turnout for the special election could be low.
"It's always a struggle," said Ward 15 co-chairwoman Eileen Boyle. "A lot of people are campaign-exhausted."
The atmosphere at the forum was congenial. Campaign volunteers holding signs and distributing literature outside the church exchanged pleasantries with the small-town familiarity characteristic of the tight-knight Dorchester neighborhood.
At the head table, Lawton set a cordial tone, walking the microphone over to Carvalho, who was seated at the other end of the table.
The comity of the candidates and their supporters aside, the 6-week race for the 5th District seat is shaping up to be extremely competitive fight among four fairly evenly-matched contenders for a slim majority of the voters in the district, fewer than a thousand of whom will likely turn out for the special election. The winning candidate could easily prevail with fewer than 400 votes.
Although many in the Cape Verdean community are supporting Carvalho, who would be just one of two Cape Verdeans in the House if elected, support for the candidates in the 5th Suffolk District does not appear to be split along race lines. The racially-mixed Ward 15 Democratic Committee endorsed Charles Peterson, who is black. Some blacks are working on behalf of Johnson, who is white. And some whites are working on behalf of Lawton.
Jose Barros, who is backing Carvalho, said he was impressed with all four candidates.
"They know this community well," he said. "They love their community. You can see the passion in every one of them."
But given the narrow universe of regular voters and the fact that most in the room were already committed, Barros said their performances Sunday probably didn't make much of a difference.
"I don't think they changed anyone's mind," he said. "Everyone here is supporting someone."