Mass. Governor candidates air views in labor forum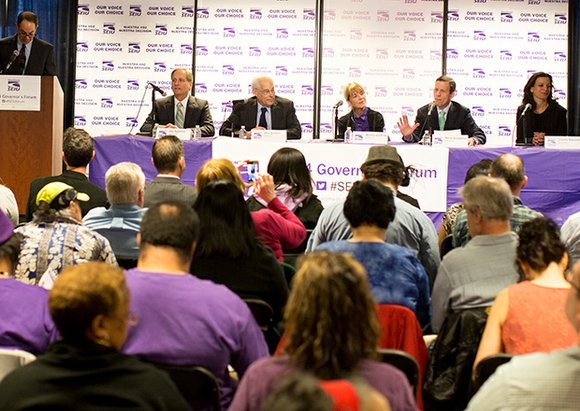 Berwick also finds fault with the current tax system and said a major way to increase state tax revenue would be to fix current loopholes and tax incentives that cost the state millions in lost revenue.
"Loopholes and exemptions should only be ones that add jobs and support the safety net. We need to stop the others," he said.
He also pointed out that health-care reform could bring substantial savings to the state and be an immediate source of additional funding for other necessities.
"Real, serious health care reform has to become essential in this state so we can return money to the state treasurer and to your pockets as laborers so you can pay for what you want to for your families," he said.
Joe Avellone III, a health-care professional and former Wellesley selectman running for governor, is targeting health-care reform as well.
"We think that health care is so sacrosanct that we can't touch it. That is not true. We can make it much more efficient," he said. "It is 40 percent of the state budget. If it is 39 percent, one point different in the state budget — that is $359 million per year that can be saved. That is a billion dollars over three years. This can be used for education, transportation and the things that we need."
Avellone is not confident that raising taxes is an answer to the state's funding issues.
"I don't favor a broad-based tax, certainly not until we have controlled health-care costs and taken the extraordinary opportunity that we can to create room in our budget," he said. "This is no time for a broad-based tax. It will hit the middle class. And we have a great opportunity otherwise to lower health-care costs and create the opportunity for the investment that we need."
Candidate Juliette Kayyem, a security advisor to Gov. Deval Patrick, took the strongest stand and said taxes are not the immediate answer.
"The issue of a more progressive tax rate is an important one, but I am going to be incredibly blunt with all of you — even if we want it and even if you could get the Legislature to do it — it won't be done before 2018, just given the calendar," Kayyem said.
She favored an examination of the current state budget and shifting allocated money away from some areas to others that are lacking. In particular, she targeted the money spent on the criminal justice system in the state and prison construction and said it should be reduced and that money should be used to fund education, green initiatives and infrastructure.
On the topic of immigration, all candidates agreed that the federal government needs to get over its gridlock on immigration reform and work together for a solution for the country, though all acknowledged this was not likely to happen soon.
At the state level for Massachusetts, the candidates' immigration discussion focused on two issues: allowing undocumented immigrants to get a driver's license and in-state tuition for undocumented immigrants. All candidates supported both measures, although Attorney General Coakley skirted supporting standard driver's licenses for undocumented immigrants saying it was important to think about if there should be a distinction in the licenses issued.