Linda Dorcena Forry breathes new life into Boston St. Patrick's Day breakfast
Yawu Miller | 3/19/2014, 10:33 a.m.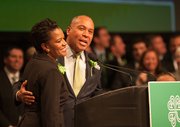 "These Southie boys didn't give this breakfast up without a fight," Dorcena Forry said, adding that she and Collins had cut a deal.
"Nick's going to be heading up this year's Haitian American Unity Parade," she said, displaying a photoshopped image of Collins at the head of the Mattapan-based parade.
Dorcena Forry's stewardship of the breakfast provided much of the comedic relief for the event. Collins, Hart and U.S. Rep. Stephen Lynch all participated with Dorcena Forry in a video depicting the trio attempting to induct her into the culture of South Boston.
In the video, Lynch instructed Dorcena Forry on the use of lawn chairs as parking space savers. Hart took her to Irish step dancing classes. And Collins took her to Kelly's, a South Boston fast food joint where Dorcena Forry ordered a tofu burger.
The warm, back-slapping humor took on a harder edge in the repartee between Collins and Mayor Martin Walsh, former political allies who parted ways after the state representative alleged Walsh covertly aided Dorcena Forry in her bid for the 1st Suffolk seat, despite his pledge to stay neutral in the race.
Joking about the increased diversity in the room, Collins quipped, "We've been serving Bud Light, Coors Light and, for Marty, O'Doul's Light," riffing off Walsh's sobriety. Walsh reminded Collins that his predecessor, former Mayor Thomas Menino, was in office for 20 years.
Dorcena Forry saved her sharpest barbs for Counselor Linnehan.
"This year, he decided to take Evacuation Day literally," she said, displaying an image of Linehan superimposed on the famous Gilbert Stuart painting of Washington standing on Dorchester Heights to the left of his horse's rear-end.
"If you can't see it clearly, that's Linehan on the left," she said.
The turnout in the room was more diverse than in years past, with Gov. Deval Patrick, Suffolk County Sheriff Steven Tompkins, state Sen. Sonia Chang Diaz, state Rep. Jeffrey Sanchez and city councilors Ayanna Pressley, Tito Jackson and Charles Yancey among those seated at the dais.
"I think it really rings in a new era for the city of Boston," said former state Rep. Marie St. Fleur. "We are a global city and the power structure is finally starting to reflect that."
Irish Prime Minister Enda Kenny spoke at the breakfast, underscoring his nation's commitment to helping Haiti rebuild after its 2010 earthquake, in a nod to Dorcena Forry's Haitian roots.
Kenny also urged the elected officials present to work toward fixing the nation's immigration policies.
"America would be the better for it," he said.
Dorcena Forry elicited laughs with her own request for Kenney.
"There's an American over in Limerick right now," she said, alluding to Linehan. "Maybe you can keep him. Because he's quite the diplomat."
Political insiders gave Dorcena Forry high marks for her performance in the event, which in past years has lost some of its comedic luster.
"She's done a beautiful job just being herself and honoring the Irish culture," said former gubernatorial candidate and political activist Grace Ross.
"It is rare when one experiences a moment where you are keenly aware that a historical shift is occurring, but that certainly did happen this morning," said Counselor Pressley. "Symbolism does matter, and it was powerful today."