Main Streets Director Ed Gaskin sees bright future for Grove Hall
Yawu Miller | 3/12/2014, 10:50 a.m.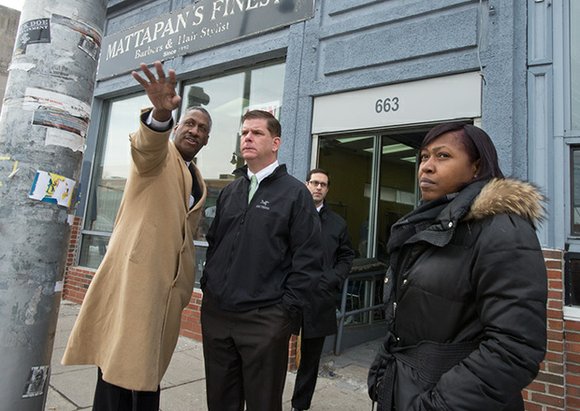 "People don't aspire to bring certain kinds of businesses here because they don't think they'll come," he says. "People never think to ask. We have to get out of that mentality."
Currently more than 20 of the 140 storefronts in the Grove Hall area are vacant, 15 of them as part of a $2 million renovation project. Gaskins says the vacancies present an opportunity for the district to recruit businesses that break from the mold of Radio Shack, Ashley Stewart, Footlocker and cell phone stores that populate other business districts. He sees potential for a fitness center and higher-end dining. 
"We want to set the bar higher," he says. "We're looking at this as an opportunity to re-shape the community. If we're actively recruiting businesses, we can shape what the community will be."
As for the technology sector, Gaskin says Grove Hall residents expressed an interest in seeing more high-tech jobs in the area. While most people in the area are technology consumers, few if any are producers, he explains. Gaskins says local youths can learn how to produce applications for mobile phones.
"It's not something that necessarily takes a college degree," he comments. "It's something you can do with a laptop. You don't need a lot of capital."
The cultural events in the Grove Hall area include the Caribbean Carnival, Puerto Rican festival and Dominican festival. Tying cultural events to the district could be as simple as inviting festival participants to patronize the local businesses, according to Gaskin.
Martinez says Gaskin's ideas mesh well with the aspirations of Grove Hall residents.
"He's been great," Martinez says. "He started off running. He's given us a synopsis of all the projects on the avenue. And he's got a plan for all of them."