Parking may be casualty of Dudley development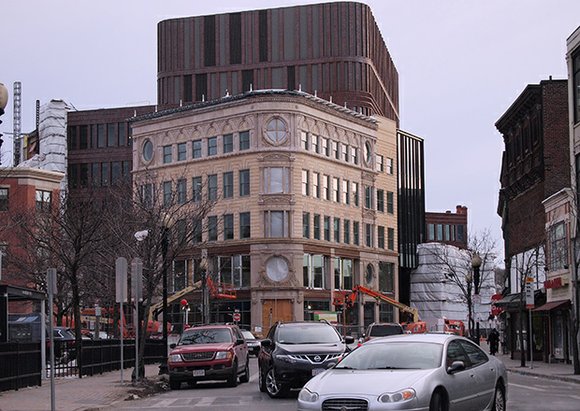 The completion of the Ferdinand Building at the end of this year will be a major milestone in the rejuvenation of the Dudley Square area. The 532 employees the building is expected to bring to the business district will be an infusion of activity, lunch money and cars.
And the expected increase in auto traffic has many in the area wondering just where all the cars will go. With public lots already stretched to capacity, the profusion of new workers has some in Dudley Square worried.
"It's going to be a mess," sums up Dudley Main Streets Executive Director Joyce Stanley.
Of the 532 employees Boston Public Schools plans to move into the Ferdinand Building, only 79 will be required to bring their cars into Dudley Square. Twelve will be accommodated in parking below the Ferdinand Building. The remaining 67 will be accommodated in a new addition to the existing Blair Lot on Washington Street.
That leaves 320 daily BPS employees, of which the agency estimates only 128 will commute by car.
The problem Stanley and others have with the BPS projection is that the business area's supply of unregulated spaces — those where commuters can park all day — does not currently accommodate the number of people working in Dudley Square.
"We don't have enough spaces for the people who come and go in Dudley Square," says A Nubian Notion co-owner Sharif Abdal-Khallaq. "This is going to affect us. It might be our death nail."
Already the employees of the nonprofit agencies and businesses that make Dudley Square home park in the two-hour spaces in the public lots and on the streets, the spots that are reserved for customers of the businesses in the Dudley area. Nearly two-thirds of those parking in the four public lots in Dudley Square remained in their parking spaces for longer than the two-hour limit, according to a recent study conducted by the Boston Redevelopment Authority.
While many current BPS employees take public transit to the department's current Court Street address, which is located at the hub of the city's train system, getting to Dudley Square from the city's outer neighborhoods isn't quite so easy by public transportation. Commuters who don't live near a bus line that feeds into Dudley Station would likely face a much longer commute than the train ride into the center of the city.
Boston Redevelopment Authority Director of Planning Kairos Shen says there are short-term fixes to the dilemma presented by the influx of BPS staff.
"There needs to be better management of off-street parking lots and on-street spaces," he says. "A lot of the off-street parking lots are unregulated."
Shen also says employees at the Ferdinand Building and other businesses in the area can be encouraged to park in lots and unregulated on-street parking spaces farther away from Dudley Square.
"We want to make sure that if they drive, they are parking in lots that are farther out," he said. "As you get farther away from the square, there's an excess of parking."