Busing forum bridges decades-old divide
Yawu Miller | 6/25/2014, 11:03 a.m.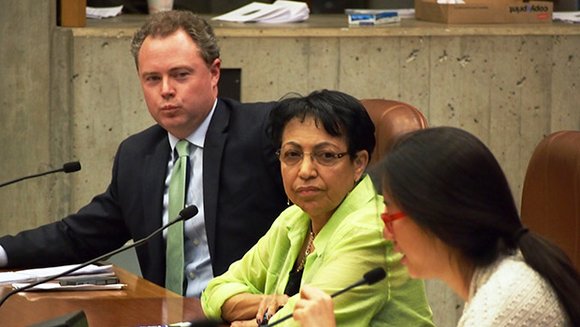 Peters, who was a teacher in the years before busing, said the experience blacks had in schools before desegregation was as traumatic as busing was for whites, recalling finding a 5-year-old girl after school one day. Her teacher, who was white, had shut her in a closet, taped her mouth shut and apparently forgot her there.
"I had books from 1942 and I was teaching in 1965," Peters said. "I was a new teacher with 45 kids in my classroom."
Back in East Boston, as was the case in much of the city, there wasn't much talk of deplorable conditions in the Roxbury and South End schools attended by blacks, according to LaMattina.
"I never knew there were problems in other schools."
LaMattina said the implementation of court-ordered desegregation increased racial hatred and recalled that the home of his best friend – who was black – was firebombed.
"I never saw that growing up in East Boston," he said.
"Hate existed all over the city," Peters responded.
Also commenting on the lead-up to Garrity's decision, Dorchester Reporter managing editor Bill Forry said the Boston School Committee and the electorate in the city should shoulder the blame for busing.
"The electorate has to bear responsibility for electing leaders who knowingly and willfully defied the law," he said.
Lorrayne Shen, an organizer with the Chinese Progressive Association, spoke about how Asian students were used as a buffer between blacks and whites during desegregation.
"Asian students were classified as 'other,'" she said. "They were placed in white schools. Because they were placed in the schools, [the schools] were classified as desegregated."
Christine Boseman, a black woman, testified that she dropped out of school because of racial harassment during desegregation.
"It was awful," said Boseman, who only recently got her GED and graduated from UMass Boston.
The hearing at City Hall was the latest in a series of hearings convened by the Boston Busing Desegregation Project. The project, which kicked off in 2010, is aimed at encouraging dialogue about the events the lead up to desegregation and its aftermath, according to Horace Small, executive director of the Union of Minority Neighborhoods.
"We had to win the confidence of people over the last four years to get us to a place where they could share their stories," he said during the hearing. "History makes us uncomfortable."
Councilor Pressley said the conversation about busing is an important step toward healing the traumas people suffered during desegregation.
"We are in an emotional limbo, in post-traumatic stress," she said. "It is a dark stain and it gets in the way of our ability to be healthy, fully functioning communities. This is historic and important and it shouldn't have taken 40 years to have this conversation."
Bivens said the project will likely convene another forum in September, to mark the 40th anniversary of the day the yellow school buses first brought black high schoolers into white neighborhoods and whites into black neighborhoods.