'Guided Tour' brings audience on roller coast ride of emotion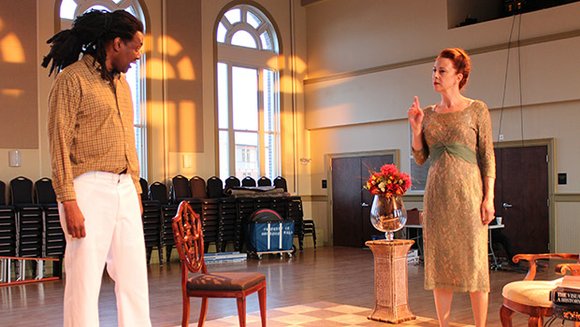 Peter Snoad's "Guided Tour" demonstrates love's ability to drive a person to extremes in its honor.
In this play, which recently enjoyed a six-week run at Hibernian Hall, the protagonist, Joe Bell, has spent 14 years in prison for burning down Elmwood Hall, a Gilded-Age mansion in Rhode Island. Young law student Susanna Hatch is determined to clear Bell of any wrongdoing and, as she visits Bell in a prison's psychiatric unit, she learns about love's aforementioned ability.
At the play's beginning, Bell is standing in the entrance of Elmwood Hall and acting as the tour guide he used to be, telling the imaginary tourists, "Today you get the chance to see Elmwood Hall in the flesh."
This scene portrays Bell's deep passion for the mansion. The actor (played in this production by Vincent Ernest Siders) moves across the set pointing out unique details about the estate. His obvious admiration for Elmwood Hall leads one to question his motive to destroy it.
Snoad, a Jamaica Plain resident, was visiting playwright at Hibernian Hall. "Guided Tour" was the second of four full-length plays by Snoad to have been performed at Hibernian Hall. Snoad won the Stanley Drama Award and the Arthur W. Stone New Play Award for "Guided Tour."
The play's settings switch between the prison psychiatric unit, Elmwood Hall, and Bell's psychiatrist Dr. Martin Rivera's office. The action takes place between 1958 and1986.
The audience had an emotional ride, watching Bell insist on a psychotic break as the cause for his burning down the mansion and hearing Hatch try to convince Bell that he has been framed for the crime — with racism as the motivator behind the false accusation.
"Guided Tour" at Hibernian Hall didn't focus on the details of a full set. Instead, the actors were left to imagine certain details about their surroundings. This was the case specifically with Siders as the main character.

The set consisted of a stage and enough furniture to depict the shift between Elmwood Hall, the psychiatric unit, and Dr. Rivera's office.
Siders was able to express such desire as he described specifics about the mansion that it made a physical set unnecessary.
For instance, in the scene where Bell first interviews for the tour guide position, he begins to describe the details of a fireplace that was not visible to the audience. Siders motioned his hand in the direction of the invisible fireplace and described it in so much detail that his fascination by the fireplace could be felt.
On the surface "Guided Tour" looks to be about a young women's fortitude to clear a black man's name from a crime she believes he hasn't committed. However, the main focus is on the power of love.