JetBlue Swim and Paddle for Boston Harbor To Benefit Save the Harbor
Courtesy of Bruce Berman | 7/28/2014, 2:57 p.m.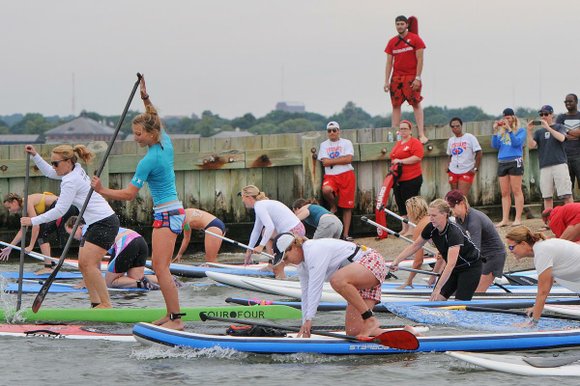 On Saturday August 9th, 100 swimmers and paddlers will take part in the JetBlue Airways Swim and Paddle for Boston Harbor, a one-mile, chip-timed, professionally staffed, competitive swim followed by a two-mile, chip-timed Stand Up Paddleboard (SUP) competition, at the BCYF Curley Community Center at M Street Beach in South Boston to benefit Save the Harbor/Save the Bay.
Bruce Berman, Director of Strategy, Communications, and Programs at Save the Harbor/Save the Bay said, "Ten years ago we were forced to cancel our swim because of water quality concerns on the South Boston beaches. In fact after several cancellations because of poor water quality, our sponsors pulled out and withdrew their support."
"Today we are proud to say that the beaches of South Boston are among the cleanest urban beaches in the nation, so this event can take place rain or shine – unless there is a hurricane or tropical storm" said Berman. "We are particularly pleased to announce a new name sponsor for this event, Jet Blue Airways, whose 2500 crew members in Boston share our commitment to promoting Boston Harbor as a destination for everyone to enjoy."
Proceeds from the swim will benefit Save The Harbor / Save the Bay, while funds raised from the SUP competition will benefit both the Massachusetts Chapter of the Surfrider Foundation and Save the Harbor / Save the Bay
Online registration at www.swim4bostonharbor.org is open until 5 PM on August 7th. Participants can also register on-site the morning of the competition on August 9th from 9:00 AM to 10:00 AM.
Swim registration is $50, and the race will be capped at 100 participants. Registration for the SUP competition is $25 - and paddleboard rentals are available for an additional $25. The SUP competition will be separated into beginner and experienced heats.
This year's prizes include round-trip tickets on Jet Blue Airways and great gifts from Harpoon:
• Top fundraisers (over $500) entered into raffle for one round trip JetBlue Airways ticket
• First place swimmers (male and female) each win 1 round trip JetBlue Airways ticket
• Top two SUP finishers each win 1 round trip JetBlue Airways ticket
• Beginner SUP winners will receive gift cards
Every person who makes a pledge or a contribution to support this event will be entered into a raffle to win a round trip ticket on JetBlue Airways as well. Swimmers, paddlers, supporters, and sponsors are all welcome to join us on the beach for an icy cold Harpoon beer and treats from Tasty Burger after the swim!
Those wishing to join the party without competing are asked to make a contribution of $25 to support Save the Harbor/Save the Bay's work to restore and protect Boston Harbor and Massachusetts Bay for residents and visitors to enjoy.
To register for the JetBlue Airways Swim and Paddle for Boston Harbor - or to make a pledge to support a participant - visit: www.swim4bostonharbor.org