Mayor, local activists break ground on new Roxbury farm plot under city's new commercial farm zoning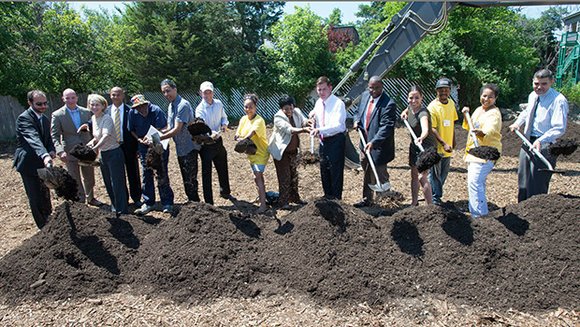 Residents of Roxbury's Garrison-Trotter neighborhood joined with elected officials, city department chiefs, a host of nonprofit and for-profit organizations and a crew of newly-trained urban farmers July 11 to officially break ground at the first urban farm site launched under Article 89, Boston's new commercial farming zoning statute.
Mayor Martin Walsh, who issued an official proclamation of July 11 as "Urban Agriculture Day" in Boston, spoke to an enthusiastic crowd jammed into a tent erected on 225 Harold Street, a former city-owned vacant lot.
"Make no mistake about it, this is a big day for Roxbury and a big day for Boston," said Walsh. "This new farm will be productive in more ways than one. It will enable local farmers to become food entrepreneurs; it will increase this community's access to nutritious food; and it will help give neighborhood children a better understanding of our natural environment and our economy."
Article 89 was adopted by the City in December, after a process that included 18 Urban Agriculture Working Group meetings, eleven neighborhood meetings and multiple revisions, according to the City of Boston website. The new zoning lifts restrictions on commercial farming within city limits and creates a permitting process for urban farmers.
The Harold Street site is now poised to become productive farmland, thanks to a large network of agencies, individuals and organizations, including a partnership among the Trust for Public Land, Dudley Neighbors Inc. and the Urban Farming Institute to acquire and manage city farmland.
"The Trust for Public Land, an organization whose mission is to preserve land for public use, will purchase city-owned sites and arrange for fencing, new soil, grading and other work to make them farm-ready," said Kevin Essington, TPL's Massachusetts state manager. TPL will then transfer ownership of farm-ready sites to Dudley Neighbors Inc., the longstanding community land trust that owns 35 acres in Roxbury and Dorchester.
The Urban Farming Institute will train and select farmers and manage the sites. At the groundbreaking, UFI Executive Director Patricia Spence introduced a crew of trainees and UFI's Bobby Walker, a neighborhood resident and "farmer trainer extraordinaire" who directs the 22-week training program.
Spence also put the new initiative in a historical context.
"In the 1940s my grandfather grew vegetables and fruit on Howland Street, and canned and pickled the excess," she said. "Now we have a new wave of urban farmers, creating economic opportunity for local Boston residents."
In an interview, Spence emphasized that this initiative is not about gardening, but about viable farming businesses. She termed the new breed of urban commercial farmers "agri-preneurs," who must present a business plan when they apply to lease farm sites managed by UFI.
The Garrison-Trotter Farm is the first of three sites slated to become operational this year, said Essington; the others are on Callender Street in Mattapan and on Akron Street in Roxbury. TPL plans to acquire and prepare 12 farm lots over the next few years, he said, with the help of venture philanthropist funding.
Prior to Article 89, in 2011 the city created an Urban Overlay District that allowed early urban farms to be operated by City Growers and ReVision Urban Farm. UFI trainees are now honing their skills on City Growers plots, where they help grow produce that is sold to area restaurants and retail customers as well as to Camp Harbor View, a summer camp for city youth.