Impressive lineup of US, international bands featured at 2014 Montreal jazz festival
Colette Greenstein | 7/11/2014, 6 a.m.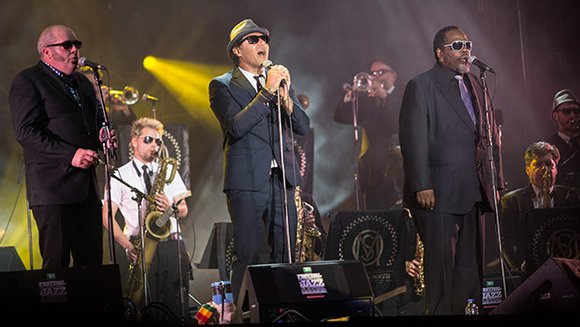 It was an exhilarating and music-filled two days at the Montreal International Jazz Festival, where an abundance of talent and a richness of music from burgeoning artists prevailed.
Despite heat and humidity, thousands of music lovers in all shapes, colors and sizes flocked to the streets surrounding the Quartier des Spectacles to see and hear musicians from around the globe. Representing the United States on Tuesday and Wednesday evenings at the free, outdoor concerts were first-time performers Los Angeles quartet Vintage Trouble and Lady, comprised of R&B singer Nicole Monique Wray and her band. Hailing from New York was the band The London Souls, and jazz saxophonist Darius Jones accompanied by the trio Tarbaby led by bassist Eric Revis.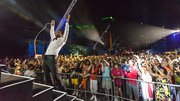 Vintage Trouble, who came together in 2010, unleashed a mixture of soul, funk and R&B before a crowd of several thousand people at Scène TD on the Place des Festivals. Led by vocalist Ty Taylor (a cross between James Brown and Wilson Pickett), the band's energetic hour-long set was reminiscent of a church-revival, only without the hallelujahs and amens. Taylor glided across the stage, to the enthusiasm of the audience, singing songs of love and heartbreak as sweat poured down his face. The Godfather of Soul himself — James Brown — would have surely been proud. Taylor's raw energy was perfectly matched by his smooth-as-silk bandmates: guitarist Nalle Colt, bass player Rick Barrio Dill and drummer Richard Danielson.
As Vintage Trouble's set was coming to a close, Lady graced the Scène Bell stage, which was just a stone throw's away from the group. The R&B chanteuse and former Missy Elliott protégé sang R&B songs combined with classic Motown soul to the delight of the international audience.
On Wednesday night, as a light summer breeze finally arrived on day seven of the festival, it was time for some international heat and music from the group Mokoomba, out of the Victoria Falls region of Zimbabwe. The sextet, who has been around since 2001, performed an energetic, fun, and uplifting show in their native tongue of Tonga. Their distinct musical style, which fuses "ethno-jazz, traditional Tonga rhythms, Sahara blues, hip hop and salsa," excited the crowd and had the audience dancing and smiling all along the esplanade.
Following Mokoomba, less than one block over on the Scène Loto-Quebec stage, The London Souls played for the first time at the jazz festival with their distinctive rock/funk/soul sensibility. From there, it was time for a bit of modern jazz by alto-saxophonist and composer Darius Jones, who brought together jazz and music lovers alike with his passionate play.
And, rounding out the night or maybe it was kicking off the night, for a second performance of ska music at 11 p.m., was the 30-piece Australian group, Melbourne Ska Orchestra. Front man Nicky Bomba led the charge with getting the show started and the crowd hyped up on the main stage. The impressive band blew the audience away with their sky-high energy, scintillating horns and playful spirit. With Melbourne Ska Orchestra's electric performance and thousands of people jamming to their music outdoors on the Plaza, you would never have guessed that it was close to midnight.
With performances by such talented and well-known performers from across the globe, it's no wonder the Montreal International Jazz Festival is one of the top festivals in the world. If you're into music, this is the festival to see up-and-coming talented artists before they become household names. C'est magnifique!