UgandaProject spreads word with award-winning musical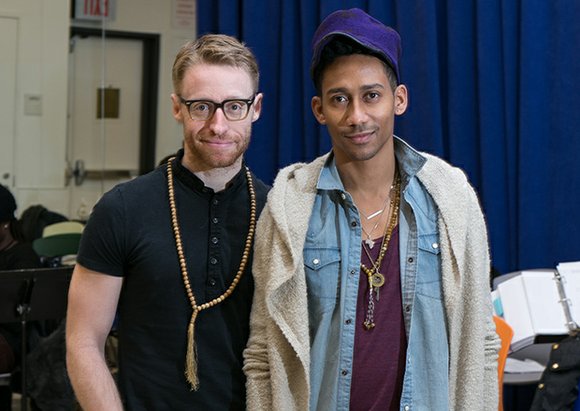 Then, destiny struck again.

"Witness Uganda," a documentary musical, was born on a walk on Lenox Avenue between 113th and 114th Street in New York City in 2008, according to Gould. "I suggested writing a musical about the organization as a way to raise funds. Griff thought it was a terrible idea," he said. "That was how it started."
Since its creation by Gould and Matthews, "Witness Uganda" has touched many lives across the globe — young and old, white and black, gay and straight. Based on Matthews' experience, the musical is about a young man named "Griffin" from New York City, who volunteers for a project in Uganda and finds himself on a journey that will forever change his life.
The upcoming production at Harvard uses Luganda (the music of Uganda) in the retelling of the story and is staged by Tony Award-winning director and American Repertory Theater Artistic Director Diane Paulus. It exposes the challenges confronted by American aid workers and the complex realities of trying to change the world.
Prior performances of the show have been very well received and it was awarded the 2012 Richard Rodgers Award for Musical Theater, which was created in 1978 for the development of the musical theater, specifically for works by composers and writers who are not established in the field. The musical has also received the American Society of Composers, Authors and Publishers' Dean Kay Award and Harold Adamson Awards.
It has been performed in at events including The Lido Investment Symposium in Beverly Hills, The Rattlestick Theatre New Play Festival in New York City and the Uganda Summit Series in Lake Tahoe. It has also been performed in Uganda.
"I never knew it was going to be a musical. I began building music around the interviews. We're part of a generation that wants to do good that wants to do something for humanity," Gould said about "Witness Uganda. "It's meant to teach, to inspire, to help."
And that's what the show has done. It has inspired others to help, to believe, to dream. For example, a young girl named Emily living in Arcadia, Calif., was inspired to help Mary, one of the students in UgandaProject after seeing "Witness Uganda." Over the course of a summer, Emily raised over $2,000 to send Mary to nursing school. In the summer of 2013, Mary was the first female student to graduate from nursing school in Kampala, Uganda. As Matthews said, "the show was always meant to impact the kids' lives."
And Matthews' thought on what he wants people to take away from the show? He hopes that people walk away feeling inspired and feeling like change is possible.
"I'm just a guy who went to Uganda. You can do it too. There's no hero. We're just people trying to figure it out. They can make change and they can be changed," he said.
The American Repertory Theater at Harvard University presents "Witness Uganda," created by Matt Gould and Griffin Matthews and directed by ART Artistic Director Diane Paulus. The production will begin performances at the Loeb Drama Center on Feb. 4 and will run through March 16. To purchase tickets, call 617-547-8300 or visit AmericanRepertoryTheater.org.
For more information on volunteering with UgandaProject, visit www.ugandaproject.com