UgandaProject spreads word with award-winning musical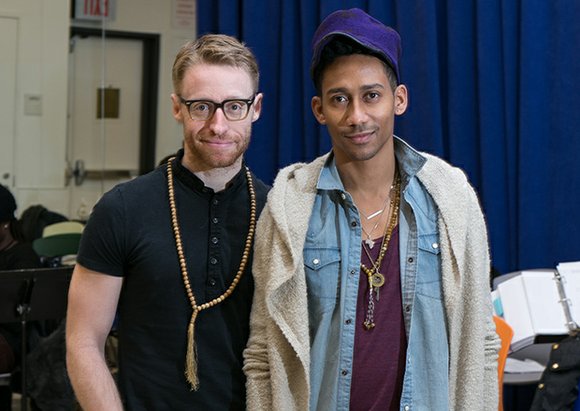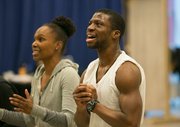 In 2005, what began as a simple invitation from a group of friends in Los Angeles to volunteer in Uganda over the summer became a life-changing trip for then 23-year-old Griffin Matthews. His experiences led him to found UgandaProject, an organization that supports teen education in the African country and has also developed the musical "Witness Uganda," which is coming to Harvard's Loeb Drama Center next month.
According to Matthews, a graduate of Carnegie Mellon University in his hometown of Pittsburgh with a bachelor's degree in musical theater, his trip to Uganda almost didn't happen.
"I was a struggling actor and I didn't have any money and didn't think I could go," he said, but his friend in Los Angeles set out to raise money for the trip and collected enough for him to go along. "They raised more than they expected and a friend said we can buy your ticket, and so I went."
Call it destiny.
On that fateful first day, "I stepped off the plane and didn't expect it to be so beautiful," said Matthews.
Amidst the background of the beautiful rolling green hills, Matthews met a group of orphaned teenagers and listened to their stories and struggles, and found himself going back the next day, and the next, to hear more, until his six weeks were up and it was time to return to the United States.
"I knew going on that trip would change my life and it would be a deeper appreciation," Matthews said. "When I left Uganda, I didn't know how I was going to get back. It was emotional. I never had that feeling before."

Armed with a renewed sense of purpose Matthews set out to help and to bring hope to the teens who so inspired him on that first trip. When he arrived back in New York City, he started a nonprofit called Be The Change Uganda (later renamed UgandaProject), to help raise money to send the teens to school. In the beginning, the organization only supported about six students between 17 and 20. They had completed primary school and some middle school and with the organization's help were able to attend what is known as a boarding school in Africa — the common next step in education there.
To support the organization, Matthews began raising money by throwing loft parties in New York City. "People would throw in a couple of dollars at a time and we were lucky if we collected $500 in an evening. At the time, the yearly budget was about $20,000. So we had to throw a lot of loft parties," he said.
Fast forward to the year 2008, The Great Recession hit the U.S. and Matthew's ability to raise money to keep the kids in school was failing.
Enter Matt Gould, composer, lyricist and music teacher. Matthews and Gould met through mutual friends.
"Because of my two years in the Peace Corps in West Africa, I was anxious to meet others in the theater community who had spent time in Africa. We hit it off immediately — personally and artistically — and we both had similar ideas about aid work and American responsibility abroad," said Gould.