Interior designer Denise Rush follows passion into academic role at Boston Architectural College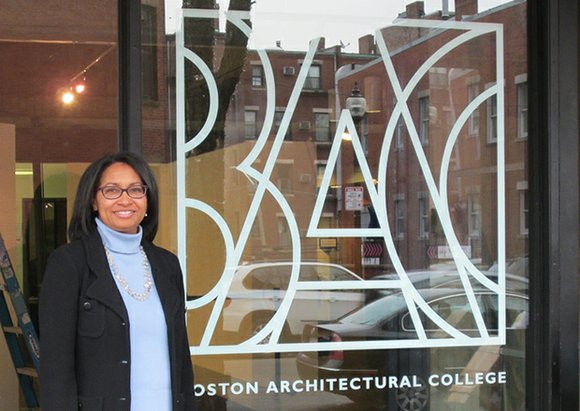 "It is really dealing with the built environment and how people interact with not only their built environment but, if it is an office, the office furnishings and things of that nature beyond the aesthetic," Rush said. "There is usually a great deal of explanation that has to be done for people that think all interior designers do is decorate."
Rush has worked in a lot of hospitals and says that these projects can get very specific taking a look at "the psychology of colors" that should be used depending on the type of patients. For example, she explained that she has worked on cardiac wards where the doctors asked for vibrant colors to help stimulate the patients recovering from heart surgery.
She has also done some residential interior design. "I like doing both. I have done some residential work in my private practice. It is really different from the commercial angle of things," Rush said.
Eventually, though, Rush also started to get into academia, spending time as the visiting interior designer at the University of Illinois, Urbana Champaign, and as an adjunct faculty in the interior architecture program at Columbia College Chicago.
She joined the Boston Architectural College in January last year. Located on Newbury Street in Back Bay, the college offers undergraduate and graduate programs in architecture, interior design, landscape architecture and design studies. Students at the college work fulltime in their fields and also take classes, so most of the classes are at night. The typical student takes at least five years to finish a degree.
As director of undergraduate interior design, Rush said she loves having a hands-on role in helping others find their way into a field that has captured her passion for so long.
"I find I love teaching, so I truly get a joy of seeing my students every semester not knowing the topic of the class and just seeing them develop their skills," she said. "It is really challenging. There is a lot of information to learn so you can design a space that functions because many times you might have a pretty picture or pretty project board, but if I look at the layout, it might not be workable. So teaching those skills to make them good designers is a lot of fun. I enjoy that."
At the start of this school year, Rush was part of implementing a new school-wide curriculum school at the college. "That was very interesting and exciting," Rush said. "We are just really focused on giving the students real world experience in the classroom when we can. I have had real clients approach me and I have incorporated that into the classroom where the students actually get to create a design solution."
Rush's foray into education has also given her some time to reflect back on the path that got her into interior design and she hopes she can impart this experience on to others.
"The design process — creating always interested me — so if there are children out there that are creative and they like making things happen or drawing something or putting something on a blank piece of paper they should look at creative careers and there are a number of creative careers. If they really like building things, architecture and design, landscape architecture, those are great careers for doing that — thinking of an idea and seeing it come to shape. I love walking into a building where I have designed an interior and it is a pretty cool feeling," Rush said. "If a child in whatever stage of creativity they are at, if they find that they have that kind of passion, hopefully adults around them can help guide them to creative careers. That was the case for me."
While the architectural field, from her experience, hasn't ever had a strong presence of African Americans, she said that has never held her back. Rush is a member of the National Organization of Minority Architects and has spoken at events for the group. However, she is also a member of International Interior Design Association and has been a member of the American Society of Interior Designers, which she said are organizations with very few minority members.
"I didn't see a lot of 'me' in meetings but still, if this is what you love to do, those types of things don't hinder you," she said.