Hibernian Hall swings for the fences with Jackie Robinson play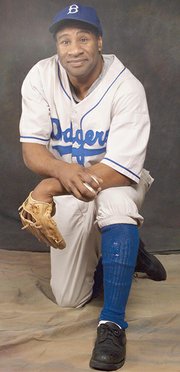 Ohio-based performance troupe Mad River Theater Works is making its way to Roxbury to kick off black history month with "Everybody's Hero: The Jackie Robinson Story" at Hibernian Hall on Feb. 4.

The play follows historical figure Jackie Robinson from age 18 through his time in the military and throughout his trials and tribulations as the first black baseball player in Major League Baseball.
"We're excited to be able to present the story," said Madison Park Development Corp. Communications Manager Angel Babbit Harris. "Jackie Robinson, overall, is such an important figure in history."
MPDC has hosted Mad River annually for the past six years as a way to honor black history month and educate youth in the community on significant moments in history.
Mad River Theater Works, originally called Little Miami Theater Works, was founded in 1978 and performed original plays based on Ohio history. Today, Mad River Theater Works travels nationally performing original plays and plays based on historical figures and facts.
According to the mission statement of the performance troupe, its aim is to create original music for its performances and tackle "complex urban issues from a non-urban point of view."
"Just like most of our productions, Mad River comes in and they have a minimal set," Harris said. "They rely a lot on music and really imagination to set the scene and they do a phenomenal job with the musical aspects of the play."
Harris said she still finds herself humming the tunes from last year's play about Rosa Parks.
For this year's performance, MPDC is partnering with Roxbury organization The Base, a program that provides athletic and educational opportunities for student athletes through baseball training and by helping students plan and set goals for success.

The Base founder Robert Lewis Jr. has committed to filling some of the seats at the performance with some of the youth in his program, as well as youth in other community programs he supports.
For Lewis, the opportunity for Boston youth to learn what he refers to as "America's history" instead of the common term "black history" doesn't come enough.
"We don't do enough sharing of history to our young folks," Lewis said.
Lewis saw a golden opportunity with Mad River's Boston performance to provide a history lesson to the youth in his program and some in other programs.
"With me launching this new program that's dealing with baseball as tool for academic success for our young folks, what better opportunity than to bring some of our young folks where there's going to be this play talking about the life and values and virtues of Jackie Robinson," Lewis said.
Lewis said it should almost be a no-brainer for other community organizations to get youth in their programs involved when these types of performances happen in the neighborhood.

"These are jewels that we get," Lewis said. "These are privileged opportunities and I think us adults that do this type of work in our communities, we need to make sure our young folks are getting access to every opportunity."
While it may seem obvious why an organization that uses baseball as a platform would take an interest in the performance, Lewis said it's not Robinson's success as a baseball player that he's most interested in.
"Too many folks put an emphasis on the extraordinary baseball achievements of Jackie Robinson and not as many on his the achievements of Jackie Robinson as a civic leader," Lewis said.
Mad River Theater Works will hold two performances of "Everybody's Hero: The Jackie Robinson Story" on Feb. 4 — one for school-aged children at 10 a.m. and a performance for adults and families at 7:30 p.m. Tickets are $20 for adults and $10 for students and seniors. There are also group rates available. To purchase tickets for the upcoming performance, visit hibernianhall.org.