CDC proposes Fairmount Line housing development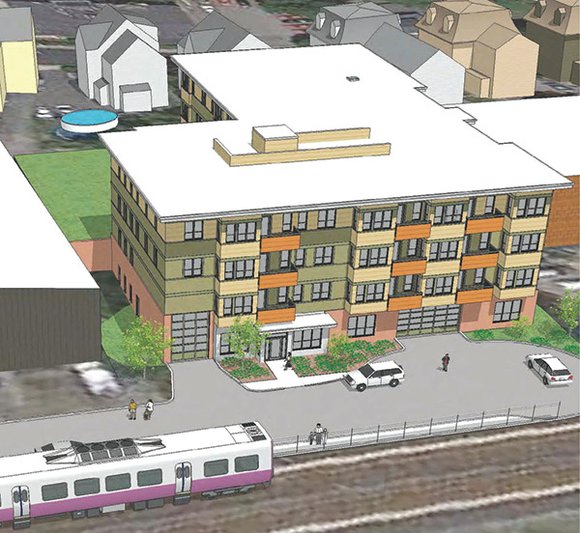 "We have talked to numerous neighbors and businesses, and there is enthusiasm for this new housing option right in downtown Logan Square. This will begin to turn this area around, which is what we all want."
While some at the public meeting questioned the ability of a first-time developer to pull off such a project, Thall said that is exactly why Southwest Boston CDC is partnering with development veteran Codman Square Neighborhood Development Corp. — an organization that already has Fairmount Line projects under its belt and owns over 800 units of rental housing.
"We have a shared interest in the development of the Fairmount corridor all the way from here up to South Station," said Mark Dinaburg, director of real estate development for Codman Square NDC. "We believe that the right response and the public investment, which the public has done in this line, is to do transit-oriented development. Make these stops a destination if you can. We are trying to do that up there and we can only succeed if it is done all along the line and we are supporting Southwest Boston in trying to achieve that down here."
Leading the concerns over the funding of the project, which Thall estimated at $9.5 million, was Hyde Park resident Joe Smith.
"Who don't know who you are and what your future is in this area of the city. And I would like you to answer some questions about who you are financially and whether you are a viable organization without depending on an organization in Codman Square," Smith said. "You have no experience in this area at all, yet you are proposing to put a $7 million building up in our neighborhood."
Thall pointed out that although Southwest Boston CDC has not developed housing before, the board has members who have many years of experience in housing and real estate, including his own four decades of experience in development.
According to Thall, the plan to fund the estimated $9.5 million project is to use a mortgage to cover $1 million of the cost, collect $5.5 million from private investors and seek $3 million in city, state and federal loans and grants.
Southwest Boston CDC is calling the project "the first government-assisted rental housing for families to be built in Hyde Park in over 20 years."
However, Thall admits that the government funding is the x-factor as the time it will take that to be approved — if at all — is unknown due to the large amount of demand in the current economic climate.
John Campbell, who is overseeing the project at the BRA, emphasized that the project is still very much in the review process.
"I did receive a phone call a few weeks ago and someone suggested to me that this project was already a done deal. I can tell you that is the furthest thing from the truth," Campbell said. "This is in the very early stages and they have a long way to go."
Rev. Beth Weiman, pastor at the Hyde Park Presbyterian Church, was one voice at the meeting speaking in support of the project based on the much-needed new housing it would provide.
"Some people talked about the worry of poor people coming to our neighborhood, but none of this sounds very poor to me actually," Weiman said. "If I was not married and I was working as the minister I am now, I would be totally eligible for this. So look at me. This is me. This is who would go there — a person with a master's degree, who works as a professional, who has money to spend in the community and who has children they care about and love."