Local groups pressure loan giant on evictions, foreclosure policies
Yawu Miller | 1/15/2014, 10:55 a.m.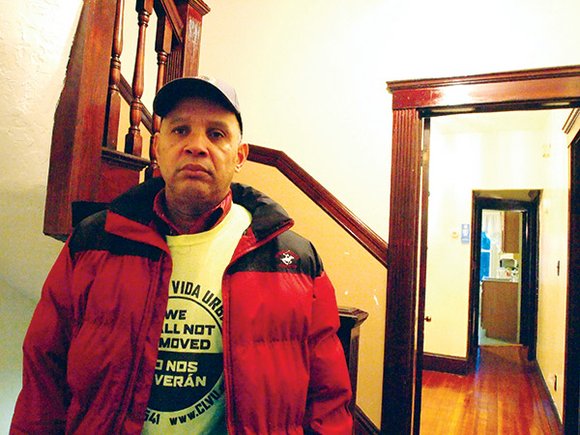 "I called Chase to ask for a loan modification," he said. "I was paying my mortgage with a credit card."
Franco said he applied for a modifications six times, and updated his application for the modification many more times, as directed by Chase.
"They denied all my requests to do a loan modification," he said.
The bank foreclosed in August 2013, "11 years and one day after I bought the house," Franco notes.
He and Luna have remained in the house, while Flynn continues to attempt negotiations with Fannie Mae on behalf of COHIF.
While Boston housing advocates cite Fannie Mae as a bad actor in neighborhoods that have been hit hard by foreclosures, the agency was founded as an attempt to make homeownership more attainable. Under the Administration of President Franklin Delano Roosevelt, the Federal National Mortgage Association was incorporated as a New Deal initiative aimed at creating a secondary market for mortgages. By purchasing federally insured home loans from banks, Fannie Mae enabled the banks to reinvest their assets and make more loans, thereby expanding home buying opportunities during the Depression era.
Although Fannie Mae is not a government agency, the federal government owns a majority interest in the now publicly traded company.
Following the mortgage crisis of 2007 — which was precipitated largely by investment bankers buying and selling mortgaged-backed securities from unregulated conduits — the federal government used public funding for a $71 billion bailout of Fannie Mae, which the mortgage giant has since paid back.
In some ways, the principal reduction Franco, COHIF and Right to the City Coalition members are now asking of Fannie Mae is the holy grail of community groups in high-foreclosure neighborhoods like Dorchester. But as common sense as it sounds to community groups, agreeing to write down the principle on a mortgage that exceeds the fair market value of a home is a non-starter for the banking industry.
Even though Franco's mortgage originator, JPMorgan Chase, was part of a $25 billion mortgage settlement reached last year with 49 attorneys general to settle claims of mortgage fraud — a settlement that required that 30 percent of the settlement amount go toward principal reduction — JP Morgan and the other banks have only dedicated 14 percent of the $25 billion to writing down mortgages in the first nine months of the settlement.
While many states are relying on lawsuits and settlements with unscrupulous lenders to help save borrowers with underwater mortgages, some communities are taking things a step further. The city of Richmond, Calif., last year approved a measure to take homes with underwater mortgages from banks by eminent domain, paying the banks a fair market value for the properties. That measure has drawn fire from the banking industry and the Obama administration.
Wall Street investment firms and banks created the Securities Industry and Financial Markets Association to lobby Congress to block Richmond and other cities from using eminent domain to buy mortgages.
The financial institutions also threatened to stop issuing new mortgages in Richmond if the town follows through on its plan.