Dudley Square retail rents rising as area undergoes revitalization
1/15/2014, 10:47 a.m.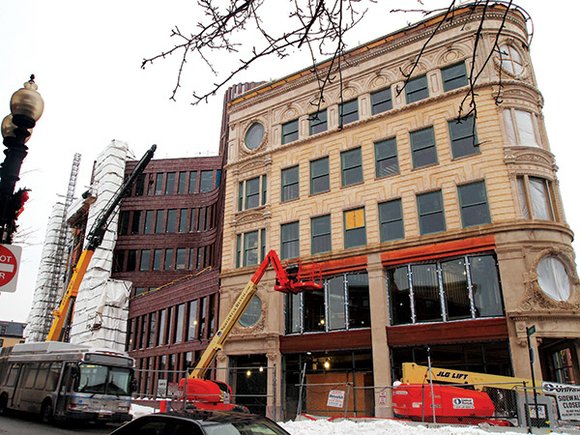 Rent trends and averages can be complicated to pinpoint, as rates vary widely between old rundown buildings, renovated buildings and brand new ones. In some cases nonprofits or desired "anchor" tenants were offered below-market rates long ago — and those rents sometimes jump dramatically up to market rate, Stanley said, potentially pushing a business out. Abdal-Khallaq noted that long leases may lock in base rent, but escalation clauses allow landlords to pass on to tenants increases in taxes, insurance or maintenance costs.
The Dudley Renaissance Center on Warren Street near the new municipal building currently has vacant retail space listed for $27 per square foot, and some say $30 rates are on the way for new space.
Officials have yet to announce rent figures for retail in the city-owned Dudley Municipal Center. In the Request for Proposal, potential tenants are asked to propose a rent they can pay, and potential bidders have been informed that a committee comprising city officials and Dudley community representatives will evaluate and rank potential tenant businesses on several factors, not just the highest bids.
The Dudley Municipal Building project team has said they hope to see local businesses in at least some of the spaces and that they are actively seeking a sit-down restaurant for the large space at the "nose" of the building with windows onto Warren and Washington Streets. At 7,800 square feet, the restaurant could have a capacity of up to 250 people. Five other spaces up for bids range from 1,800 square feet to 2,300 square feet, though subdividing into smaller units may be possible.
Rob Robledo is vice president of retail tenant services at CBRE/Grossman Retail Advisors, the firm hired by the city to publicize and market the Dudley Municipal Center's retail space. His goal has been to get "as many eyes and ears as possible" on the Dudley Square opportunity, tapping a database of 7,000 local and national retailers.
Proposals are due Feb. 10, and Robledo expects a good response. He said a mix of local, regional and national businesses, ranging from "service to dry goods to restaurants," have shown interest.
Not surprisingly, those in the retail leasing business express enthusiasm for the spate of development, though in interviews, they tend to downplay the rising rents and highlight the expected increases in street life and new customers.
"It should be a win-win situation," said Russell Hill, a local commercial real estate broker and a co-owner of the Dudley Renaissance Center building. "Dudley in my memory has always wanted to not have its stores closing at 5 p.m. I think we're going to see a more lively Dudley. A wider variety of services should be available, serving residents old and new and having better services and hours."
Hill declined to say existing businesses would be pushed out by higher rents, but speculated that some would respond better than others to opportunities presented by a new set of customers and greater activity during the day and into the night.
"In a free economy, the market will dictate if the nature of a business will generate enough income to support higher rent," Hill said. "If there's more foot traffic, then existing businesses should benefit. If they remain competitive and maintain their businesses, they'll benefit."