Diversity a top priority for New England carpenters union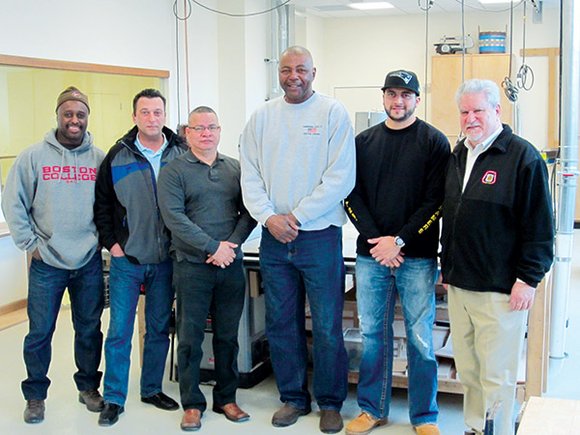 Ransom said he leaves cards with a lot of kids and follows up with them. He said he remembers a lot of the students and if they do pursue a career in the trades he makes an effort to sit down with them and make sure it is something they really want.
Carpenter Ernesto Belo, who represents the wood framers Local 723 and reps for NERCC, said he finds it is most important to be involved in the community to help spread the word about the benefits of a career in the trades.
"I am well known amongst my peers and people approach me and they are looking for jobs and they are looking to better their lives and we try to accommodate them with those opportunities," Belo said.
According to Belo, he reaches out to young kids in the neighborhoods across all different communities, always trying to present the trades as a viable career option.
"It is entrenching yourself in your community and getting to know the individuals in your community. And word gets around," he added.
Mario Mejia, an organizer for NERCC and also a member of the wood framers Local 723, said that being able to speak Spanish is a massive benefit to his efforts to bring in new workers.
"Right now in the construction industry probably the majority you see out there … is Latino guys, so we go to the non-union world and we talk to Latino and Hispanic workers and that has a big impact," Mejia said.
Mejia said he shares his personal story about entering the trades and the carpenters union and how having benefits and the support has impacted his life. He believes hearing this message from someone speaking Spanish has a big impact on attracting new workers.
Charles Cofield, a member of Local 67 and commercial construction worker who recently started organizing with NERCC is quick to point out that, although the efforts for diversity and inclusion are important, companies really want good workers and will draw from any communities that can provide this.
"We are always looking to bring people in. We are always looking for females. We are always looking for a spot for Boston residents," Cofield said. "Because I was born and raised in Boston I am always looking to get city workers on."
However, he said that he always emphasizes that skills, attitude and hard work will be what leads to success in the industry, not background or demographics.
Mynor Perez of local 2168, who represents floor coverers as a business manager for the union, agrees with Cofield. He explains that the union is very welcoming to all new workers, but they still have to show up and get the job done. Typically contracts only allow for a few guaranteed hours, the rest is based on performance.
"I have people that have lasted 20 years in the same company. I have people that last one day or a few months, so I think the way our contracts are structured really allows for the cream of the crop to rise," Perez said.
Perez also reemphasizes that the reality of his trade now is that minority workers are the majority and the competition for workers is leading to more diversity — as a necessity.
"It is not that we target a particular group, it is just basically going after our competition and the majority of the people working in my industry, in the non-union side, happen to be minority," Perez said.
"This isn't just something that we all of a sudden decided to do because it is politically correct or the thing to do right now. It is something that our organization did, seeing that if we didn't change, we would die," Belo added. "It is like any other business. If you are not growing and expanding your base then you are losing ground and you are slowly but surely dying."