Marty Walsh inaugurated; Boston City Council picks Bill Linehan as president
Yawu Miller | 1/8/2014, 11:12 a.m.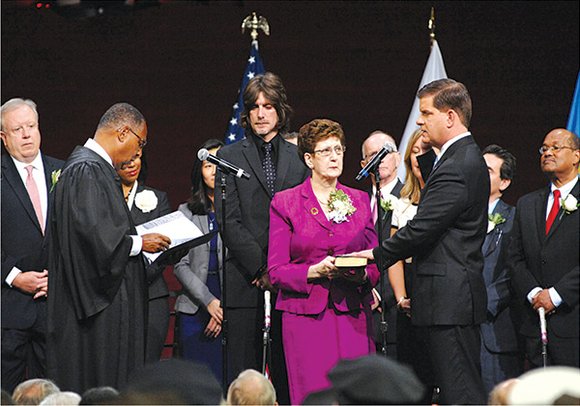 Chinese Progressive Association Executive Director Lydia Lowe said the 2014 council is showing a conservative bent.
"We've got a forward-looking mayor and a backward-looking council," she said.
The council president has the power to make committee appointments and determine what is included or excluded from the council's weekly agenda.
The battle for the council presidency surfaced the second week in December when Linehan reportedly secured pledges for seven votes. White progressives, black, Latino and Asian activists pressured Wu to withdraw support from Linehan. Wu showed up in the council chamber Monday with her own supporters and followed through on her pledge to vote for Linehan.
"The council had an opportunity to move the city in a more progressive direction," said Gloribel Mota. "They decided not to. We've got new faces taking the same positions."
NAACP Boston Branch President Michael Curry said his organization is planning to closely monitor the council and issue report cards on councilors' votes.
"I think they failed the first test," he said. "This was a disappointing first vote. It reminds us that we have a lot more work to do in the city of Boston."
Walsh sworn in
The mayor, whom Lowe referred to as forward-looking, made his first entrance into the City Council chamber calling on the body to work collaboratively.
Walsh's swearing in ceremony, held at Boston College earlier in the day, played on themes of inclusivity and openness, with the new mayor pledging to run the city with openness and inclusion.
"I will listen, I will learn, I will lead," the mayor said in his remarks.
Walsh has been listening in the weeks leading up to his swearing-in with a series of community meetings held at Roxbury Community College and other venues around the city. He has also begun assembling a new leadership team in City Hall, appointing as chief of staff Daniel Arigg Koh, the 29-year-old former general manager of the HuffPost Live news website, as chief of Health and Human Services former at-large Councilor Felix G. Arroyo and as chief legal counsel state Rep. Gene O'Flaherty, whose district includes Charlestown and much of Chelsea.
Walsh's first announced picks demonstrate an hybrid mix of old and new Boston with O'Flaherty, an at-times conservative-leaning Democrat, Arroyo, a labor-friendly and popular counselor and Koh, an Andover native with no experience in Boston's politics.
The inauguration was attended by political luminaries including Sen. Elizabeth Warren, Gov. Deval Patrick, former mayor Ray Flynn and Cardinal Sean P. O'Malley.
Following his appearance in the council chamber, Walsh headed into a meeting on public safety with members of Mothers for Justice and Equality, interim Police Commissioner William Evans and Suffolk County Sheriff Steven Thompkins.