Gabrielle Union thrives in 'Being Mary Jane'
Stephen A. Crockett Jr. | 1/8/2014, 11:41 a.m.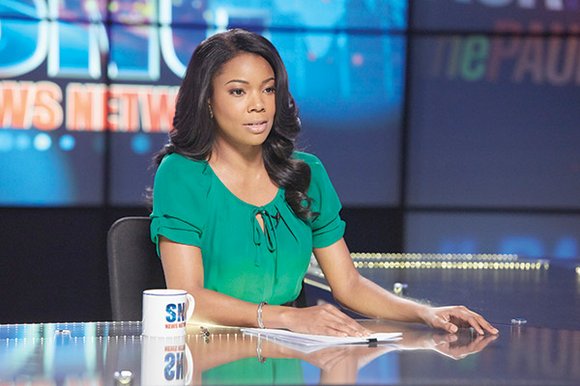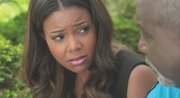 Gabrielle Union might as well be a unicorn or a leprechaun or some other mythical creature. She is stunning and petite and warm and kind — all things that actresses of her stature and beauty aren't supposed to be. And get this: She likes bacon.
Not all things bacon, but a quiche-looking thing that sits in rows on a square plate in front of her. She didn't order it so much as it just appeared, all neat and prepared, like magic.
She looks at the food and wonders aloud whether it has bacon in it. She picks it up, inspects it a bit and then, throwing caution to the wind, dives in. Two bites in, she closes her eyes, and it is confirmed: bacon.
She is satisfied.
We are waiting for her fictional mother and "Being Mary Jane" co-star, Margaret Avery. Union is getting the room ready for her — adjusting the seat, moving the microphone closer so that Avery's soft voice can be heard on the recording. Union will do this throughout the interview. She will check on Avery, defer to her, and listen intensely when she talks about her years of being a black woman in white Hollywood. Although the two aren't blood-related, they have a bond that reads as very familial. They make inside jokes, finish each other's sentences, and tease each other.
"When y'all talked about the 'booty call,'" Avery says, as if it were a foreign tongue, "I heard that and went, 'Oh God.'" She puts a delicate hand across her chest, clutching imaginary pearls of a past that didn't include such crass advances. "I mean, I grew up in a time when husband and wife slept in separate twin beds."
Union laughs, and that's where their fondness for each other lies — somewhere between the absurdities of booty calls and married couples in twin beds. One of these actresses comes from an old Hollywood that never saw her as light enough to be a leading lady, while the other is a leading lady who struggles with her own beauty and finding roles that allow her to express real emotion. Both are looking for raw honesty and the authenticity of true experiences in "Being Mary Jane."
Premiering Jan. 7, BET's first one-hour scripted drama focuses on the professional and personal life of successful news anchor Mary Jane Paul, played by Union. The TV movie premiered last year and was the highest-rated cable show for that day, serving as a kind of backdoor pilot into the series, which has already been picked up for a second season.
The series, created and executive-produced by Mara Brock Akil (creator of "Girlfriends" and "The Game") and directed by her husband, Salim Akil ("Jumping the Broom"), is an unflinching look at the balancing act of trying to manage a stressful family life and a hectic career, all the while traversing the tight rope of single-dom.
Union credits a failed "Scandal" audition with guiding her toward her new role. "The words that we were auditioning with were so amazing that all of us were like, even if we don't get this job ... it was so good to practice with good material. It's making me better just auditioning ... We all kind of fell in love with this idea of playing in a world that a black woman had created," she says.