American Repertory Theater's 'The Heart of Robin Hood' adds romance to classic tale
Susan Saccoccia | 1/2/2014, 8:30 a.m. | Updated on 1/2/2014, 8:31 a.m.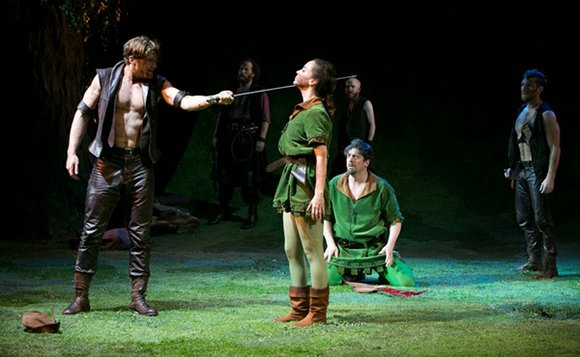 Turning herself into "Martin of Sherwood," Marion claims her own place in the forest and robs the rich to help the poor.
As its name suggests, "The Heart of Robin Hood" is a love story as well as a comedy. And with a hunk like Jordan Dean in the role of Robin Hood, romance is afoot.
The muddled mix of an assertive heroine who pines for Robin Hood, an "emotionally unavailable man," keeps this play from reaching the sublime power promised in its early scenes. But the director and his merry band of actors overcome the play's deficiencies with a spellbinding production. The actors turn their characters into real people—even as they leap, tumble and tangle with each other in fights and balletic, aerial ascents.
Christina Bennett Lind's Marion is a spirited and wholesome beauty. Dean's Robin Hood has smoldering appeal and even, at times, comic flair. And as Prince John, Damian Young is a totally loathsome villain.
Two actors were commanding in their roles as sidekicks. Small and wiry, Jeremy Crawford was a feral and fierce Little John. As a servant freed from an abusive lord by Robin Hood's gang to become one of its most aggressive members, his explosive and unpredictable portrayal adds gravity to the play's early scenes.
Sherwood Forest is the scene of multiple transformations. None is more fun to watch than the evolution of Christopher Sieber's Pierre, Marion's loyal manservant, from a bewigged and foppish courtier into "Peter, man of nature."
Five members of this nimble ensemble play a total of 23 parts, including the roles of a bishop, a hapless friar and a wild boar.
Injecting stylish break-dancing into their fight scenes were Moe Alafrangy in his trio of bad guy roles and Zachary Eisenstat as Robin's henchman, Will Scathlock.

Like the comedies of Shakespeare, "The Heart of Robin Hood" ends with the world in better order and celebrates the new harmony with a wedding. The stage artistry concludes with a glorious tableau true to the earthy magic of this production.