Expats participate in Venezuelan protests in Boston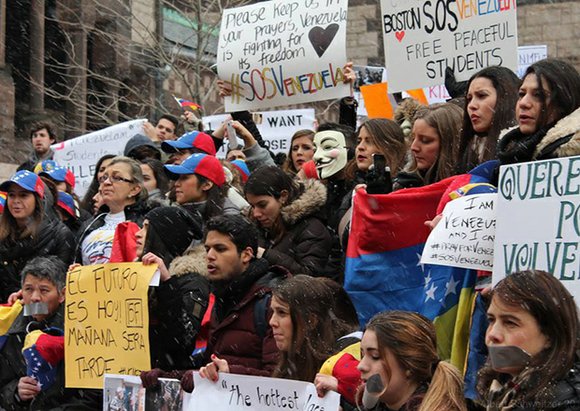 "It wasn't just about the students. They are leading the fight but everyone else is backing them in trying to do something," Aguilera said. "There is something that we all have in common in Venezuela — crime, scarcity of food, no medicine, inflation, corruption. It is becoming impossible to live there."
The Venezuelan Embassy in Boston released a statement last week from the government of Venezuela that asked the United States for an explanation "why it finances, supports and defends opposition leaders who promote violence" in the country.
"The Venezuelan government reiterates that it will continue monitoring and taking the necessary actions to impede U.S. agents from instilling violence and destabilization, and to inform the world about the nature of the Obama Administration's interventionist policies in our country," the statement said.
According to news reports, the U.S. State Department has channeled $5 million to Venezuelan opposition groups in the last year.
A number of leftist U.S. organizations have voiced support for the current government in Venezuela.
The Washington-based Black is Back Coalition for Social Justice, Peace and Reparations publicly backed President Maduro and the current government.
"The greedy, elite Venezuelan opposition, fearful of the growth of socialist organization and aspirations of the working masses, is making attempts to indict the Venezuelan government in the arena of international public opinion," the statement said. "The Black is Back Coalition is aware that the current violent demonstrations by the opposition are designed to promote the Maduro government's response as repressive and extreme in order to justify imperialist intervention. The Black is Back Coalition is opposed to these new attempts to promote new coup attempts in Venezuela. We denounce all imperialist-supported interventions in Venezuela."
The National Lawyers Guild also called on Congress and Secretary of State Kerry to oppose U.S. intervention in Venezuela, calling the current conflict there "a violent campaign brought by Venezuela's extreme right-wing opposition that seeks to topple the recently elected government."
"For the last seven years, the NLG has observed Venezuelan elections — most recently, that of President Maduro in April 2013. NLG observers and other human rights groups (notably the Carter Center) found these elections to be free, fair, and exemplary of a democratic process," said a statement from the organization. "The NLG opposes any U.S. interference in Venezuela's internal affairs … The NLG urges the U.S. government to rightfully respect Venezuelan self-determination and sovereignty."
Like many Venezuelans living in Boston, Luzmar Centeno-Valerio, office manager and programs coordinator for ¿Oìste? The MA Latino Civic Education Initiative, says she fears for the safety of her family. She also fears the conflict that the unrest is causing between government supporters and those who support the opposition.
While violence has become some part of the protests in Venezuela, Centeno-Valerio said that she wants peace and she believes most of the protestors there do as well.
She said she does not want President Maduro to be ousted, but instead wants him to lead the Venezuelan government in helping stop the overall violence in the country and make sure citizens have the basic necessities they need.