in the Mix: Comedian Michael Che talks stand-up, SNL writing gig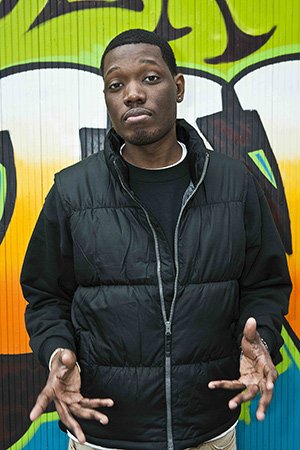 The Rolling Stone thing felt like a bizarre mistake and SNL felt like a scary moment. It's like I have to show up and then they're going to know that I don't know sh--. It felt bizarre. It felt like a dream. I didn't have a sketch background. I felt really lucky to be able to do it. It was really scary to be honest. Whenever I get an opportunity, I make sure to do it. I don't want to embarrass the person who gave me the shot.
Now, I'm starting to settle in and feel that comedy is comedy. When you get that first laugh, be on par, and put on good stuff, you start to feel relaxed and feel more comfortable. The culture at SNL is about getting the funny out.
I recently read an article on Kristen Wiig and one of the things she mentioned about her time on SNL was that she basically worked every day of the week. Has that been your experience so far? And, if so, how do you find time to write your own material for stand-up?
It's really tough. On the off weeks, you try to cram in as much stand-up material as possible. It takes me a week to unhook from the show.
How did working with Chris Rock on his new movie come about?
I'm not too sure. I think my agency called me to read for a script. When I got the call back to read with Chris Rock for the role, it seemed really weird. That was the first time I got to talk with him. It was doing a scene. It was scary as sh--. Working with him was insane. He was acting and directing. It was his writing and it was amazing. It was super cool. If I die tomorrow or quit comedy, I can tell the story and I can get a free beer.
Last August, you did 25 shows in 26 days at the Assembly Rooms during the Edinburgh Festival Fringe. What was that like?
That was exhausting. It made me hate comedy for a little while. It's different over there. They have press and reviews. There were 10 or 12 reviewers at each show. I thought it was a place where I could work and build a show but I had a lot of fun. The crowds were great. It's a different thing. It's always good to get out of your comfort zone.
In the future, who would you like to work with?
I'm just excited to work. It would still be Eddie Murphy, Dave Chappelle and Damon Wayans.
Will you be appearing on Saturday Night Live any time soon?
I really enjoy writing a lot. I really like the position. I don't need the extra pressure of being in the cast.
Michael Che brings his stand-up to Laugh Boston on Feb. 20 and Feb. 21 at 7:30 p.m., and for two shows on Feb. 22 at 7:30 p.m. and 10:00 p.m. Tickets: $20 and $30 on Feb. 20; $25 and $35 on Feb. 21 and Feb. 22. To purchase tickets, go to www.laughboston.com.