in the Mix: Comedian Michael Che talks stand-up, SNL writing gig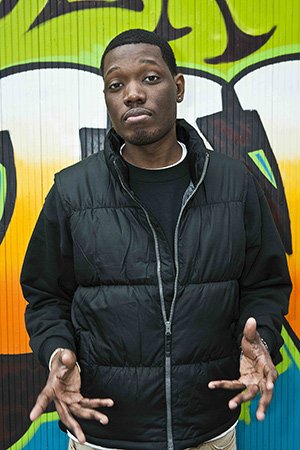 Laid-back, confident, comfortable, on the rise and funny are all words used to describe comedian Michael Che. Che has been performing stand-up since 2009, and in less than five years has shot up the ranks in the world of comedy. Known for performing five sets a night at various clubs in and around New York City, the hard-working Che was named one of the "50 Funniest People" by Rolling Stone magazine in January 2013, as well Buzzfeed's "50 Hottest Men in Comedy" and Variety's "Top 10 Comics To Watch."
Che made his debut appearance on CBS' "Late Show with David Letterman" in 2012, and in that same year he also created, wrote and starred in the web series "The Realest Candidate," from online comedy network Above Average. Che plays himself on the faux talk show "The Henkle Factor." He has also performed at various comedy festivals around the world including Montreal's Just for Laughs Festival, The Edinburgh Fringe Festival, The Melbourne International Comedy Festival and Comedy Central's South Beach Comedy Festival. He was also a regular cast member on VH1's "Best Week Ever" and has been featured on John Oliver's "New York Stand-Up Show."
In the spring of 2013, he was brought on as a guest writer for five episodes of NBC's long-running sketch comedy show "Saturday Night Live" and in September of last year he was brought back, but this time as a regular writer on the show.
With a stage presence that belies his age and number of years performing stand-up, the native New Yorker often talks about growing up on Manhattan's Lower East Side, gay marriage and gentrification of his old neighborhood. Che recently spoke with the Banner about his stand-up career and Saturday Night Live.
You started doing stand-up in 2009. How did that come about?
Depression. That's how it came about. I was 26. Twenty-six is a strange age, at least for me. I felt old and nothing was really working out. I didn't know what I wanted to do. I always wanted to try comedy. I went to an open mic place and watched everyone. Some were so bad about it and some were so good. I tried it and I was bad at it but I felt I could do this.
When did you know you wanted to be a comic and were you the class clown?
I always knew I wanted to be a comic. I just had bad stage fright. I wasn't necessarily the class clown, but the class "smart-ass."
Who influenced you?
Eddie Murphy, Bill Cosby, Damon Wayans, Def Jam, Martin Lawrence and [Jerry Seinfeld documentary] "Comedian." Seinfeld showed me the process of being a stand-up comic. I wanted to be one of those guys. That got me into the motivation of working the clubs. I would go to the Comedy Cellar, where all those guys performed. I would hang out to see the guys talk sh--. They were kind of rock stars.
Last year you were named one of Rolling Stone magazine's "50 Funniest People," and then two months later you become a regular staff writer on Saturday Night Live. How does that feel?