Business leaders discuss opportunities, challenges in Boston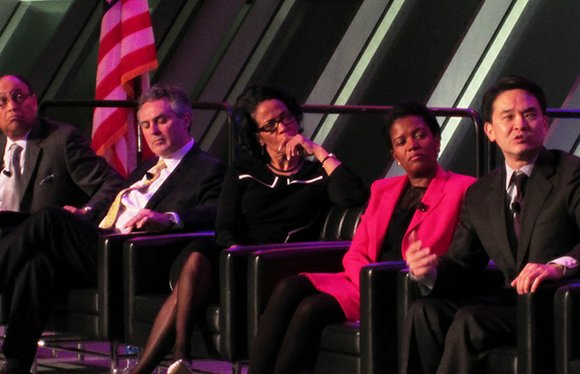 "It can't just end after today or be addressed only on Black History Month or on Martin Luther King's birthday. We have to make a concerted effort to say this is a priority," Forry said.
She said there are legislative initiatives that can be undertaken to help businesses of color thrive in Massachusetts and establishing these needs to be a priority as well as making sure that any legislation enacted is followed.
"We know we can file legislation, but if there is no enforcement or no oversight then it falls to the wayside," Forry said. "We need to hold folks accountable. You need to hold us accountable and it is great that we are doing this today, but it can't stop after this evening.
"In order to create real change there has to be a real public/private partnership, focused on diversity and creating access to economic wealth," she added. "[And make sure] businesses are aware and knowledgeable about the process and what are the steps they need to take to participate."
Roxbury Technologies' Williams built on Forry's call to action, but she also conveyed skepticism saying she has heard the promises in her decades of experience in the business world, but has seen little actual impact.
"I have been an entrepreneur for 11 years. I have had no government business," Williams said.
She added that she is hoping with some new policies in place this will change.
"I think that we have a great opportunity right now and a great opportunity for us to support one another and really do call on our politicians that are here that they are going to step up because we are a minority majority city and we should be creating wealth in this city and have the same opportunities."
Real estate developer and Suffolk Professor Taylor said he believes it will take a three- to five-year plan to see the city of Boston establish policies that will have an impact on the economic development of minority owned businesses.
For this economic impact to happen there needs to be a determined will by leadership to make it happen and a sustained mechanism to enact change, he said, calling out the Boston Chamber of Commerce in particular.
"The Chamber of Commerce in this town needs to get with the program," Taylor said. "There are no black CEOs in this town. How are you going to tell [prospective minority professionals] that they should stay in our city past entry level jobs when there are no African Americans in the c-suites?"
Taylor concluded with remarks that he hopes Boston, and Mayor Walsh, can learn from Gov. Deval Patrick, who put in place significant minority leadership in his administration, which has driven policies that impact businesses and communities of color. He said he believes with a similar approach there will be an impact in Boston.