Business leaders discuss opportunities, challenges in Boston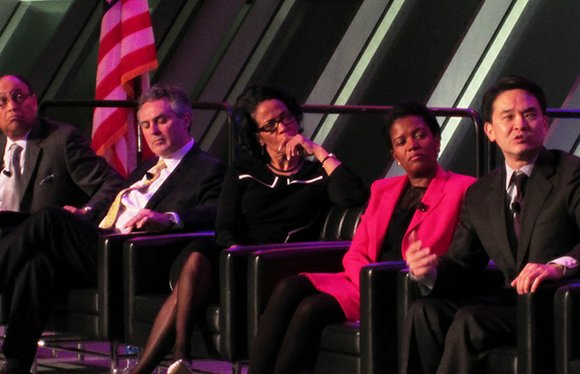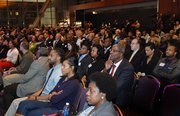 On Monday night the Boston Convention & Exhibition Center hosted a Black History Month community forum that featured an impressive panel of speakers examining how Boston can be more effective at providing economic development opportunities for businesses run by people of color. The biggest message was clear — talking about economic strategies is not enough, decisive business development action for minority-run businesses is needed.
Darryl Settles, president and founder of WiSe Urban Development and board member of the Massachusetts Convention Center Authority, set the tone for the evening with some daunting numbers.
He pointed out that Hispanic-owned business account for only one-tenth of 1 percent of all total business revenue in Massachusetts; African-American owned businesses account for only two-tenths of one percent of all total business revenue in the state. Most minority-owned businesses in the state are so small that only one in 10 have employees; and of all minority owned businesses in the state fewer than 1 percent have revenues of more than $1 million.
"This is disturbing and it is not about lack of smarts, it is not about lack of capability, it is the lack of opportunities," Settles said. "I hope these compelling statistics have given you a broader perspective about why these issues need to be addressed."
Harvard Business School Professor Steven Rogers led the discussion, which featured addresses by Sen. Edward Markey, D-Mass., and Mayor Marty Walsh. It also included a panel discussion with state Sen. Linda Dorcena-Forry, Boston Convention & Exhibition Center Chairman James Rooney, Boston Redevelopment Authority Director of Planning Kairos Shen, Taylor Smith Properties Chairman and Suffolk University Professor Richard Taylor and Roxbury Technologies CEO Beth Williams.
Harvard's Rogers stressed that a thriving minority business community in a world-class city like Boston is essential.
"This is the great opportunity that Boston has and that is to make its minority business community the strongest in America. For this to happen there must be a partnership with the City of Boston, which is fast becoming a minority majority," Rogers said. "The minority community has grown exponentially but sadly, while the minority population has grown dramatically, the city's dollars spent with minority businesses has been embarrassingly low."
Rogers estimates that Boston, which has a budget of about $2.6 billion, has spent less than 10 percent with minority businesses. He compares this to Chicago, which spent over 30 percent of its $8.3 billion budget with minority businesses in 2013.
According to Rogers, it is important for the city to do business with minority businesses for several reasons. The first is that it is the right thing to do. The second is that doing business with minority firms means the city is now accessing all of the "best and the brightest." And, lastly, because minority business have been shown, above all others, to create more jobs for other minorities.
"The largest employer of minorities is the government. The second largest employer of minorities are minority-owned firms," Rogers said. "Thus thriving, high-growth minority-owned firms are good for cities because they create jobs for other minorities."