Year 2014 brought sweeping changes to Boston
Yawu Miller | 12/30/2014, 12:19 p.m.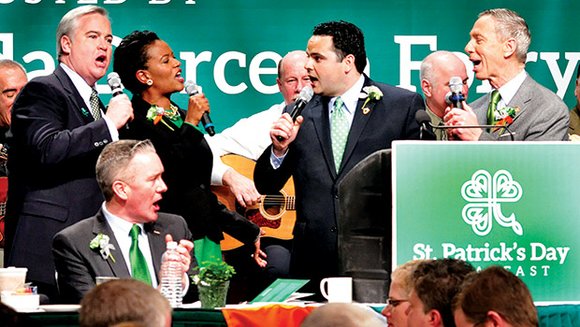 Red-hot Roxbury real estate, neighborhood innovation districts, and racial disparities in education and criminal justice dominated the Banner's headlines in 2014. It was a year of profound changes, with new faces on the 5th floor in City Hall and statewide elections that saw a high level of campaign activity in Boston's black community. Throughout the year, there was frank discussion of race and racism, ranging from the 40th anniversary of court-ordered desegregation to allegations of police profiling and the Black Lives Matter movement.
Political changes
The 20-year reign of former Mayor Thomas Menino came to an end as the new year dawned. A definitive end to the Menino era came in October, with his death after a fight with cancer. Much of the city shut down for the funeral procession, which led from Faneuil Hall, past City Hall, through Dudley Square, Grove Hall, Bowdoin Street, Mattapan Square and Hyde Park.
The procession highlighted Menino's focus on investing in the city's neighborhood business districts, long neglected by the downtown business establishment.
Nearly overshadowed by his predecessor's exit, newly-elected Mayor Martin Walsh pledged to continue and deepen investment in the city's neighborhoods with a promise to create new innovation districts. The first such district is taking shape in Dudley Square, with the new Roxbury Innovation Center, sited in the soon-to-open Bruce Bolling Municipal Building.
Walsh earned plaudits from blacks early on with changes in the police brass that elevated people of color to half of the department's leadership positions — a first in department history.
As the 2014 political season heated up over the summer months, Boston's black community became a key battleground between the Democratic and Republican candidates for constitutional offices, with gubernatorial candidates Charlie Baker and Martha Coakley making frequent appearances. Baker won plaudits from political observers for campaigning in Roxbury and opening an office in Dorchester in what was widely seen as a part of a largely successful strategy to win over Democratic voters.
While Baker secured just 6 percent of the vote in the wards at the heart of the city's black community, across the state swing voters gave Baker enough of a boost to nudge him nearly two percentage points ahead of Coakley in the Nov. 6 election.
Housing, development
New development projects that took shape in 2014 promise to change the face of Roxbury, Dorchester and Mattapan — the communities where most blacks, Latinos and Asians live in Boston. But with rents rising far faster than Bostonians' wages, many fear a wave of gentrification could displace long-term Hub residents as well-heeled newcomers discover the city's neighborhoods.
Nowhere is the transformation more abrupt than in Roxbury, where the new Bruce Bolling Municipal Building — set to open in just weeks — promises to bring in more than 600 workers and transform thousands of square feet of long-vacant storefronts.
This summer saw prices in Roxbury's long-undervalued real estate market rapidly ramp up, with single-family homes selling for more than $500,000 and multi-families selling for more than $700,000.