BU prof champions hospitality administration career potential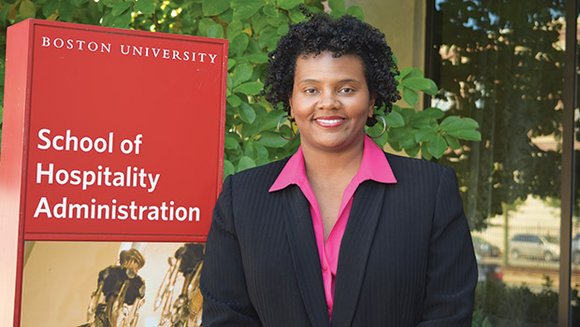 The Boston University School of Hospitality Administration is becoming a force in fueling the hospitality industry with smart, young professionals from diverse backgrounds — the school boasts over 50 percent female students and about 20 percent international students.
It also has a major asset in Assistant Professor Erinn Tucker, who is teaching her students that hospitality experience opens doors well beyond just working at a hotel or restaurant, and that they can play a major part in the U.S.'s increasingly service-oriented economy.
"So many industries rely on professional services. Hospitality is even more relevant," Tucker said. "Now, companies are coming to us because they need people who understand hospitality and customer service."
As an example, Tucker cites law firms which are now looking for professionals that can handle client-engagement to keep customers satisfied and coming back. They don't need law school graduates for this kind of work — they need someone who knows customer-service inside and out. They need hospitality professionals like the students that graduate from BU and Tucker's classes.
Tucker, who joined BU in 2011, says she can sit down with professionals in any industry, from finance to technology to medicine, and make a hospitality connection, and so can her students, which makes them very valuable.
Another evolution in hospitality education is the ambition of the students.
While the hospitality industry has been fueled by the labor of immigrant workers and their families on the front lines, many second- and third-generation children from hospitality families are now viewing college as a way to advance higher up the ladder in a business they grew up in.
A degree in hospitality is not just about getting a job at the front desk of a hotel. It is about learning the business behind the business, including marketing, operations and ownership.
"Many of our students go into the corporate side," Tucker said. "Those are the people you don't see."
What the best students are able to do is put their experience in the hospitality industry — jobs they had when they were younger working at hotels or restaurants and the 400 hours of industry experience required by BU to graduate — to good use in innovation that is changing the way the industry operates.
Tucker praises this changing attitude showcased by millennials.
"They see the value of working in hospitality as a career and not just a job," she said.
And if you think Tucker's illustration of the changing nature of the hospitality industry and hospitality education is superlative, she has only to point to herself as an example.
She is a hospitality professor with a background in event marketing and sales, corporate sponsorships and special events.
Tucker began her long road to academia at a sports agency in her native Chicago after graduating with a bachelor's degree in business administration from Florida A&M University in 1997.
This early job made her realize she wanted to work on the corporate side in sports, not with the players, and drove her back to school after a year to get a master's degree in sports administration from Florida State University.