Damon Wayans Jr. Interview: Let's Be Cops
Kam Williams | 8/27/2014, 12:06 p.m.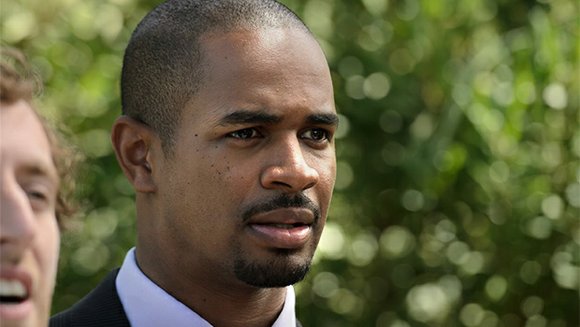 Damon Wayans, Jr. is a member of the famed Wayans family, creators of the groundbreaking television series In Living Color, the Scary Movie franchise, and much more. Damon made his film debut in Blankman, a superhero comedy that starred his father. He also appeared in his dad's television series My Wife and Kids before striking out on his own as a stand-up comic on Def Comedy Jam.
Damon subsequently made such movies as Dance Flick, Marmaduke, Someone Marry Barry, and The Other Guys. More recently, he has starred on the TV sitcoms Happy Endings and New Girl. Here, he talks about his new film, Let's Be Cops, where he co-stars opposite Jake Johnson, a fellow cast member on New Girl.
Kam Williams: What interested you in Let's Be Cops?
Damon Wayans, Jr.: I guess it was the concept which was similar to a buddy cop comedy, except they're not cops. So, it's sort of a fresh take on the idea. I was actually a little curious about why it hadn't been done before, but I was definitely interested, especially once I heard that Jake Johnson was in the mix. We get along really well and make each other laugh a lot. So, I was like, "If you do it, I'll do it." And that's how we got involved in the project.
KW: Did you do your own stunts and dancing? Did you shadow a real cop to prepare for the role?
DW: I did not shadow a real cop to prepare for the role because in the movie we're pretending to be cops. Basically, any mistakes that I would make as an ordinary citizen were encouraged. So, I never needed to shadow a cop to try to look like a cop. And yes, I did most of my own stunts, and when it came time for the dance moves I even did my own back flip. But when it came to really dangerous stunts, like breaking the glass table with my back when the lady throws me, that wasn't me, but a stuntman named Reggie.

KW: It's great seeing you on New Girl. Is there much improv happening on the set?
DW: They allow it, yeah. After they get their takes in, they kinda allow us to do anything we want. It's fun working in that environment with people I like. I went to high school with Zooey [Deschanel]. We know each other really well.

KW: You have experience on both the big and small screen. Which might be a better fit for your performance style?
DW: I don't really know. That depends on how Let's Be Cops does at the box office. If it tanks, I guess TV is better for me. [LOL] I feel like I can do both. I think of the small screen as my 9-to-5 job and of the big screen as projects that you fit in between.

KW: How hard is it hailing from such a talented and famous family?
DW: It's not really hard. They've encouraged me the whole way, since we see a win for any one of us as a win for all. So, if I'm doing good work, and they approve of it, I'm happy.