Partners HealthCare and the Kraft Center for Community Health Provide Support to Inspiring Physicians and Nurses
Career Advancement: A special advertorial section
8/15/2014, 11:15 a.m.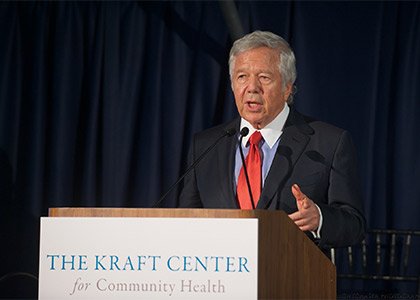 Where we live can have a profound impact on our lives, in particular our health. That realization is one reason why Robert Kraft and his family made a generous gift to Partners HealthCare to create the Kraft Center for Community Health Leadership.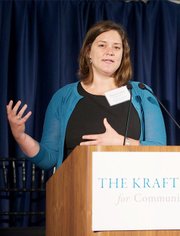 The Kraft Center provides training, mentorship, and other resources aimed at empowering promising young physicians and nurse practitioners who are helping to improve the health of our communities and bring quality, affordable health care to everyone—no matter where they live or their circumstances.
The Kraft Center recently celebrated its first class of graduates. Maggie Beiser, NP; Kate Hobbs-Knutson, MD; Mark Viron, MD; and Genevieve Daftary, MD, are some examples of Kraft Center's outstanding caregivers and new graduates. While in the two-year program, each of them practiced in local community health centers while also working on a project to address a specific need in the community. They shared their work at the first annual Kraft Symposium, demonstrating the impact providers can have when they have extra time and support.
Maggie Beiser is a nurse practitioner at the Boston Health Care for the Homeless Program. Serving this population can prove challenging. Health care isn't first on the list of priorities for those in need of food and shelter. But Maggie perseveres and provides quality care to each patient she sees. While working at Health Care for the Homeless, Maggie has noticed that a disproportionate number of her patients suffer from Hepatitis C. Hepatitis C can be fatal if left untreated, but also can be cured if properly addressed.
"There is such a huge gap in knowledge among our patients about what they can do about Hepatitis C, and it seemed like closing the gap could have an impact," says Maggie.
For the past few years, Maggie has worked to reorganize the treatment of Hepatitis C among Boston's homeless population. Through patient education, consistent treatment, and Maggie's commitment, the number of Health Care for the Homeless clients suffering from Hepatitis C has begun to drop. Maggie will continue her work at Health Care for the Homeless and continue to work towards her goal of successfully treating Hepatitis C in her patients.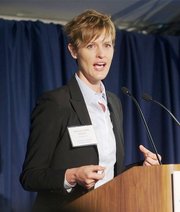 Like Maggie, Kate Hobbs-Knutson, MD, sought to address the needs of a specific population during her time at South Boston Health Center. Kate is a child psychiatrist and is invested in improving mental health care for kids.
"A lot of kids carry serious emotional wounds from repeated traumatic experiences," says Kate. "And there is a direct correlation between adverse childhood experiences and chronic disease."
While at South Boston Community Health Center, Kate engaged other physicians and encouraged them to incorporate mental health screenings into their regular check-ups. That way—if anything came up in the screening—the health center team could collaborate to provide the patient with the best resources. This is especially important for children, as addressing the issue head on gives them greater chances for good mental health throughout their lives.
Similar to Kate, Mark Viron, MD, identified the need to coordinate services provided for both the physical and mental health of his patients. Having worked at the Massachusetts Mental Health Center for some time now, Mark was eager to explore ways to treat people for their mental and physical health issues in the same place.