In The News: Sean Jones
8/7/2014, 6 a.m.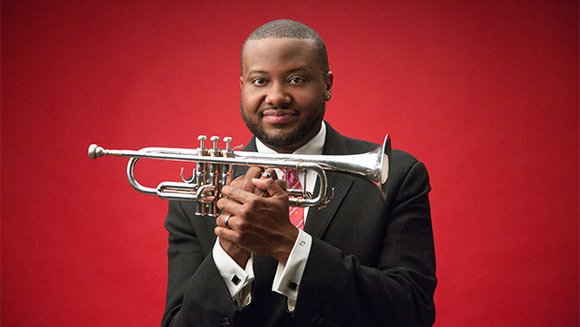 Berklee College of Music has named noted trumpeter Sean Jones chair of the college's Brass Department. Jones will build on the legacy of the department and ensure that graduates have the skills to thrive in a music industry that is ever-changing. He succeeds trombonist Tom Plsek, who served as chair for 25 years. Jones is an internationally acclaimed composer and trumpeter who just released his seventh album as a leader.
"Sean Jones brings an amazing portfolio to Berklee – performances at the highest level with the greatest musicians of his and prior generations, successful teaching experience, personal commitment and integrity as an artist, and a desire to help foster future great contemporary musicians," said Berklee president Roger H. Brown. "We are very excited to welcome Sean to our musical family."
"When I was looking for colleges, Berklee seemed to be this shiny beacon on a hill that a kid from Warren, OH couldn't quite get to," said Jones. "Fast forward 18 years, I never thought that I'd be in a leadership position at that shiny beacon. It's surreal to me and I'm honored to be given the opportunity."
Jones was originally a drummer but discovered the trumpet at 10 upon hearing Miles Davis's Kind of Blue and Amandla. He graduated from Youngstown State University in Ohio. Soon after earning his master's degree from Rutgers University, he was named lead trumpeter for the Lincoln Center Jazz Orchestra – a position he held for six years while continuing to tour, perform and record regularly.
A highly respected and in-demand musician, Jones has been prominently featured with a number of esteemed artists. These include recordings and/or performances with Joe Lovano, Chico O'Farrill, Jimmy Heath, Nancy Wilson, and Dianne Reeves. Marcus Miller, Herbie Hancock and Wayne Shorter selected Jones for their Tribute to Miles tour in 2011.