National Association of Black Journalists convention a major milestone for Boston
Robin Washington | 8/6/2014, 12:30 p.m.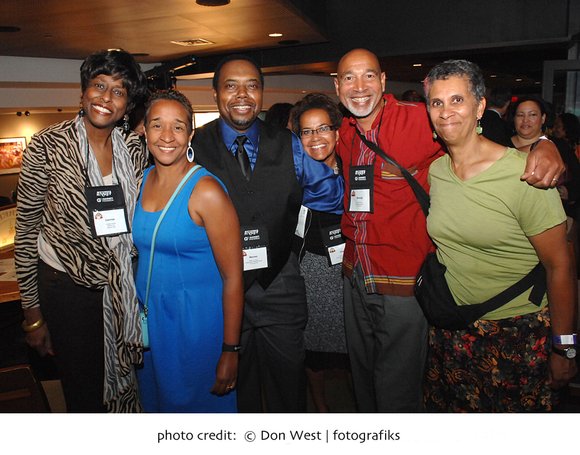 Political figures made appearances, including a welcome by Gov. Deval Patrick, who unabashedly lauded the success of liberal and Democratic initiatives — while also praising Republican National Committee chairman Reince Preibus for attending. At his turn at the podium, Preibus said his party could no longer afford to write off the black vote and must diligently work for it, lambasting a prevailing attitude "that it's OK to show up once every four years about five months before an election."
Boston Mayor Marty Walsh offered more personal remarks, saying he grew up watching Shaw on TV and that she was someone his family trusted with the news.
Even lighter moments were subject to the journalists' scrutiny. While laugher roared from a packed theater at a special screening of "Get On Up," the Mick Jagger-produced biopic of James Brown, members commented on its disjointed script. Former WGBH-TV reporter Marcus Jones, now of Washington, D.C., said he has intensely studied Channel 2's footage of Brown's historic televised Boston concert in the wake of the 1968 assassination of the Rev. Martin Luther King, Jr., and that the movie matched it perfectly. But the film took broad liberties in depicting other parts of Brown's life that were equally well-documented.
Jones also commented on whether the convention would have a lasting effect on the city.
"It all depends on the local (non-black) folks who remain," he said, "in terms of the attitudes of the people they interacted with."
Callie Crossley of WGBH radio echoed that — but noted that the journalists weren't the only black group in town making an impression.
"The Boule was in Boston last week," she said of the elite national professional fraternity. "Now to have this convention in the same area is really amazing."
Yet, she said, the city is still fighting an unwelcoming image, and not all in the distant past.
"I will say it does not help when three members of the City Council refused to support a resolution honoring Brown v. Board of Education and the sea change it brought to this country because they thought it was supporting busing. I just have no words (for that)," Crossley said of a "present" vote last May by Councilors Bill Linehan, Steve Murphy and Sal LaMattina.
Still, she said, some actions speak louder than words or council votes.
"When the Boule was here, the men were very busy and I'm told their wives spent a lot at those shops. They wore out those Prudential shops," she said, noting the journalists crowded the mall, too. "So when people start understanding what others have said lo these many years that black is really about green, maybe there's some image changing."
Former Banner managing editor Robin Washington was a two-time president of the Boston Association of Black Journalists and a longtime board member of the National Association of Black Journalists in the 1990s and 2000s. He lives in Duluth, Minn.